Talegator Power Tailgate
& Tonneau Cover Kits for pickup trucks.

Click on part numbers for details on specific products!

Secure Online Shopping
We're serious about safeguarding your information. Our Online Shopping Cart is handy and secure.
Product Description
Part Number
Special Price
Talegator Power Tailgate Lift Kit
Remote controlled power tailgate kit.
TG-1
$369.95
List $475.00
Talegator Power Tonneau Lift Kit upgrade
Add on kit to TG-1 to add convenience of remote controlled power tonneau to the TG-1 kit.
TG-2
$249.95
List $449.00
Talegator power tailgate and tonneau cover kit
Kit includes TG-1 and TG-2 in a complete kit.
TG-3
$649.95
List $899.00
Talegator Power Tonneau Lift Kit
Complete kit for Remote controlled power tonneau cover kit.
TG-4
$419.95
List $549.00
Talegator Power Tailgate Kit
Switch operated power tailgate kit.
TG-5
$279.95
List $375.00
Talegator Power Tonneau Kit
Switch operated power tonneau lift kit.
TG-6
$329.95
List $429.00
Talegator Power Tonneau Upgrade kit for heavy covers and long bed trucks.
Upgrades tonneau cover lift kits to be able to lift heavy tonneau covers and covers on 8 foot, long bed pickup trucks.
TG-8
$199.95
List $275.00
Talegator Emergency Entry Kit

98152
$62.95
List $79.00
Talegator Tonneau Cover Split Barrel Hinge Kit.

98153
$62.95
List $79.00
Click on part numbers for detailed information and photographs.
Talegator items typically ship within 5 to 10 days.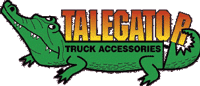 Ready to checkout or see the contents of your shopping cart?



SHOPPING CART
Although the information on this website is deemed accurate and reliable,
we will not be held liable for any errors or omissions. All prices are subject to change without notice.
---
A1 Electric Automotive Accessories
2301 W 205th Street Ste 101
Torrance, California 90501
For more information call us
Toll Free Outside The Los Angeles Area:
(888) 838-0506
Local Phone: (310) 328-8500