Electric Life
Vehicle Specific
Power Window Kits
Power Window Kit Applications are sorted by vehicle make & model
Click on vehicle make to start.
Buick

Cadillac

Chevrolet

Chevrolet Truck

Chrysler

Classics/Flat Glass

Dodge

Delorean

Dodge Truck

Ford

Ford Truck

Freightliner

GMC Truck

Geo

Honda

Isuzu

Jeep

Kenworth

Mazda

Mitsubishi

Nissan

Oldsmobile

Plymouth

Pontiac

Peterbilt

Street Rod/Flat Glass

Suzuki

Toyota

Volkswagen
-----------------------------------------
-----------------------------------------
Colibri Universal
Power Window Kits
DIRECT BOLT IN CUSTOM POWER WINDOW KITS

If you are looking for the best power window kit for your vehicle, you're looking for an Electric Life kit from A1 Electric. We have been selling Electric Life power windows since 1990 and have the products and expertise you need to install power windows in your car or truck. You can count on A1 Electric for Sales, Technical Support & Warranty Service.

Electric life power window kits are vehicle specific and are designed to bolt right in place of the original manual regulators. The 3 samples below depict 3 basic styles of window regulators. While all of the kits are built upon 1 of the 3 basic styles, each kit is different and will fit only 1 particular vehicle. Our kits typically use mechanisms similar to the factory, for the best fit possible.

This Chevy Astro Van kit uses a scissors style regulator. The scissors regulator has remained the most popular style of window regulator, used almost exclusively until the 80's.
This 1990 Volkswagen Golf kit uses a goldie cable style regulator. This style of regulator was used in some Jeep vehicles and drives all of our EL series Street Rod flat glass kits.
This 1995 Volkswagen Golf kit uses a bowden cable style regulator. Many late model vehicles, including Ford, Chrysler & GM use bowden cable regulators. Even the popular Chevy pickup uses this style of regulator. This is fast becoming the most popular regulator style on the market.
Our power window kits are sold in 2 parts. The "power window kit" consists of 2 regulators and motors. The "switch and wiring" kits are sold as the 2nd part of the kit. Power window kits can be chosen from the listings on the left side of the page.
STOP CRANKING!
Install an Electric Life Power Window kit in your car or truck!
Want to see how hard it is to install a kit?
We have several articles on actual power window kit installations.


We carry a large assortment of Switch Kits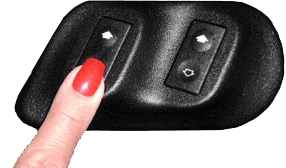 With dozens of switch kits and styles in stock, we have a
switch kit that will fit your vehicle.
Direct Bolt In Custom Kit Highlights

Electric-Life power window kits use original equipment style regulators and motors.
Electric-Life mechanism completely replaces the original crank handle mechanism for professional results.
Each kit is designed to fit one specific vehicle. Our kits are not universal.
Compatibility is not an issue. Custom kits simply "Bolt In".

Electric-Life kits are manufactured to conform to ISO 9002 specifications for quality.
ISO 9002 means guaranteed quality. Electric Life is the only custom window kit manufacturer to meet ISO 9002 standards!
Kits are "bolt in". No extensive modifications are necessary to install them.
Hundreds of kits for classics and late model vehicles are currently available.

For over 25 years, Electric Life has brought high quality
OE style power window kits to the aftermarket.
---
Looking for a Specific Electric Life Part Number?

---
Ready to Order? Need Prices?
Use our Online Catalog & Application Guide!




We have thousands of items in stock and ready to ship!
A1 Electric Automotive Accessories
Local (310) 328-8500 Toll Free (888) 838-0506
Contact A1 Electric by Email

---
Ready to checkout?



SHOPPING CART
Home | Company Information | Ordering Information | FAQ's
Electric Life Power Windows | Installation Articles | MES Power Door Locks
Alarms & Keyless Entry | Power Window Switches | OE Window Lift Motors | Colibri Power Windows
Accessories & Pop Door Kits | Street Rod Window Kits | SPAL | Classic Car Windows | Speedometer | Links to other Sites
Tech Articles & Information
Mustang | Chevelle | Dodge Ram PU | Door Lock Installs | S10 Window Motor | Maxima | Grand Am | Silverado Windows
Cable Locks | Tacoma | Tacoma Tech | Ford F150 | 55 Chevy | Volvo | Chevy PU | Camaro | VW Golf | Chevy PU
Chevy Astro | Caravan | VW Beetle | Colibri-Astro | Mopar | Focus | Silverado Door Locks