Diagnosing & Replacing The Power Window Motor In An S10 Blazer
Page 3
Once we are sure that the motor is defective, we will need to remove it and replace it. In most vehicles, it is necessary to remove the regulator from the door before removing the motor.
Many late model vehicles use 1/4 inch rivets to hold the regulator in the door. To remove the rivets, a center punch and hammer are used to punch in the center pin of the rivets. These pins are made out of hardened steel and cannot be drilled.
Before the rivets are removed, the window must be secured to keep it from falling. We like to use blue masking tape for this. A stick placed in the door will also work just fine.
Next, the remaining rivet is drilled out with a 1/4 inch drill. It may be necessary to hold the head of the rivet with a pair of pliers to keep it from spinning.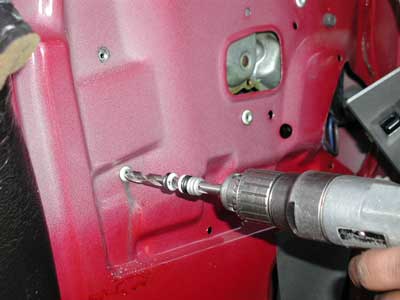 NEXT
---
Ready to Order? Need Prices?
Use our Online Catalog & Shopping Cart!





We have thousands of items in stock and ready to ship!
A-1 Electric
Local (310) 328-8500 Toll Free (888) 838-0506
Contact A1 Electric by Email

---
Ready to checkout?



SHOPPING CART

Online Catalog & Shopping Cart
Home | Company Information | Ordering Information | FAQ's
Electric Life Power Windows | Installation Articles | MES Power Door Locks
Alarms & Keyless Entry | Power Window Switches | OE Window Lift Motors | Colibri Power Windows
Accessories & Pop Door Kits | Street Rod Window Kits | SPAL | Classic Car Windows | Speedometer | Links to other Sites