Diagnosing & Replacing The Power Window Motor In An S10 Blazer
Page 5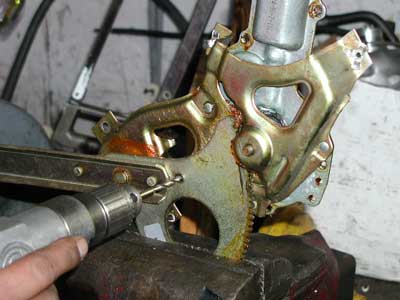 This step is important to prevent personal injury!!!
Most regulators use a large clockspring to counterbalance the arm and gear. This spring can exert up to 40 pounds of force in some applications. When the motor is removed from the regulator, the arms will try to rotate in one direction while the chassis goes in the opposite direction. Just like a giant pair of spring loaded scissors!!!
The regulator arm and gear must be locked to the chassis to prevent this from happening. There are several different ways that will work satisfactorily. This is the one that we prefer.
The regulator and motor assembly is clamped in a bench vise. A 1/4 inch hole is drilled through the gear and chassis in a clear flat spot.
A 1/4 inch bolt is then inserted in the hole and a nut finger tightened to it. This will prevent the chassis and arms from moving when the motor is removed.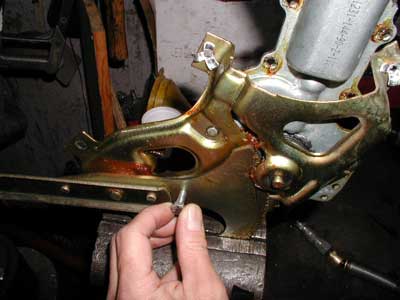 NEXT
---
Ready to Order? Need Prices?
Use our Online Catalog & Shopping Cart!





We have thousands of items in stock and ready to ship!
A-1 Electric
Local (310) 328-8500 Toll Free (888) 838-0506
Contact A1 Electric by Email

---
Ready to checkout?



SHOPPING CART

Online Catalog & Shopping Cart
Home | Company Information | Ordering Information | FAQ's
Electric Life Power Windows | Installation Articles | MES Power Door Locks
Alarms & Keyless Entry | Power Window Switches | OE Window Lift Motors | Colibri Power Windows
Accessories & Pop Door Kits | Street Rod Window Kits | SPAL | Classic Car Windows | Speedometer | Links to other Sites