Diagnosing & Replacing The Power Window Motor In An S10 Blazer
Page 2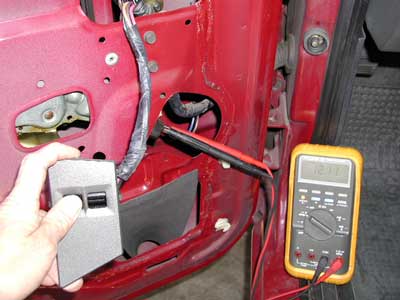 The next step in replacing a power window motor is to first verify that the motor is truly defective. With the door panel and liner removed and the power window switch plugged in, our technician checks the voltage at the motor. To properly check late model vehicles (most cars and trucks from 1980 up), the plus probe from the meter must be connected to one of the motor wires and the negative probe to the other wire. If you are using a digital meter, polarity is not important. With the switch depressed in both the up and down positions, we are getting a reading of 12.11 volts at the back of the motor. If the voltage reading in either position was 0 or below 11 volts, that would indicate that there is a problem elsewhere in the switches or wiring. Having 12 volts at the motor confirms that our switches and the wiring is working properly and the motor is defective.
Also worth mentioning is that before replacing a motor, the mechanism must be thoroughly examined for any flaws that would prevent the motor and regulator assembly from moving or operating properly. A broken or binding regulator could cause similar symptoms.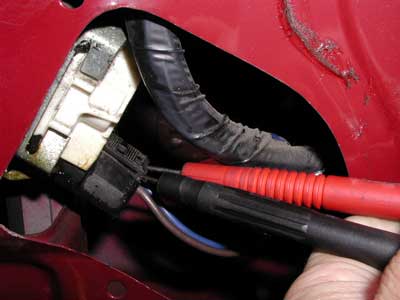 NEXT
---
Ready to Order? Need Prices?
Use our Online Catalog & Shopping Cart!





We have thousands of items in stock and ready to ship!
A-1 Electric
Local (310) 328-8500 Toll Free (888) 838-0506
Contact A1 Electric by Email

---
Ready to checkout?



SHOPPING CART

Online Catalog & Shopping Cart
Home | Company Information | Ordering Information | FAQ's
Electric Life Power Windows | Installation Articles | MES Power Door Locks
Alarms & Keyless Entry | Power Window Switches | OE Window Lift Motors | Colibri Power Windows
Accessories & Pop Door Kits | Street Rod Window Kits | SPAL | Classic Car Windows | Speedometer | Links to other Sites