Installing an Electric Life custom fit power window
kit in a Ford F150 Pickup.

Removing the door panels
Page 3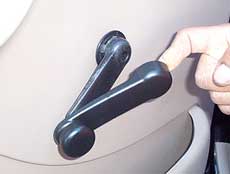 Next, the window crank handle is removed. The plastic cover is pulled back and the Torx screw that holds this handle to the shaft is removed. The remaining trim pieces at the top of the panel are carefully unclipped and removed from the door. Our installer uses a forked door panel remover to remove these clips. It is also possible to use a screwdriver or scraper blade to get at the clips.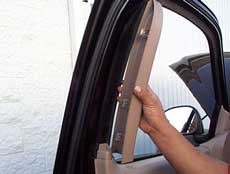 PREVIOUS
NEXT PAGE
Section 1.........................Removing the door panels
Section 2...............Removing the manual regulators
Section 3.....Installing the power window regulators
Section 4..............Installing the switches and wiring
---
Ready to Order? Need Prices?
Use our Online Catalog & Shopping Cart!





We have thousands of items in stock and ready to ship!
A-1 Electric
Local (310) 328-8500 Toll Free (888) 838-0506
Contact A1 Electric by Email

---
Ready to checkout?



SHOPPING CART

Online Catalog & Shopping Cart
Home | Company Information | Ordering Information | FAQ's
Electric Life Power Windows | Installation Articles | MES Power Door Locks
Alarms & Keyless Entry | Power Window Switches | OE Window Lift Motors | Colibri Power Windows
Accessories & Pop Door Kits | Street Rod Window Kits | SPAL | Classic Car Windows | Speedometer | Links to other Sites