Installing an Electric Life custom fit power window
kit in a Chevy Silverado pickup truck.

Installing the power window regulators
Page 6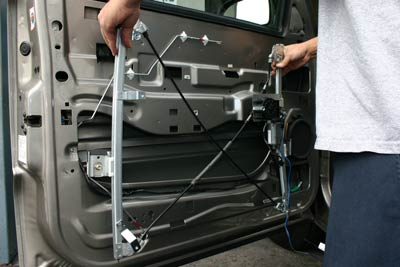 This is a shot of the approximate regulator placement in the door. Installing the new power regulator is essentially the reverse of removing the manual unit. The regulator is brought into the door through the opening and placed in exactly the same position that the manual unit was in. The 6 bolts are installed and tightened. Notice that Robert has the motor wire pigtail already attached to the motor.
With the regulator bolted in place, the tape is removed from the window and the window is slowly lowered into the glass clamps. The bolts on the 2 clamps are tightened snugly. Installing these regulators really is as easy as it looks.
---
Ready to Order? Need Prices?
Use our Online Catalog & Shopping Cart!





We have thousands of items in stock and ready to ship!
A-1 Electric
Local (310) 328-8500 Toll Free (888) 838-0506
Contact A1 Electric by Email

---
Ready to checkout?



SHOPPING CART

Online Catalog & Shopping Cart
Home | Company Information | Ordering Information | FAQ's
Electric Life Power Windows | Installation Articles | MES Power Door Locks
Alarms & Keyless Entry | Power Window Switches | OE Window Lift Motors | Colibri Power Windows
Accessories & Pop Door Kits | Street Rod Window Kits | SPAL | Classic Car Windows | Speedometer | Links to other Sites