Installing an Electric Life custom fit power window
kit in a Chevy Silverado pickup truck.

Installing the wiring
Page 10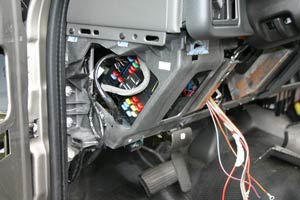 Our power ground and light wire end up under the left side of the dash near the steering column. The brown ground wire is screwed onto a cleaned area under the kick panel. It's important to get a good ground. Typically, the dashboard is not a good place to attach ground wires.
The power wire needs to be connected to an ignition key "on" power source. Robert has chosen to tap into the large pink wire coming down the steering column (blue arrow) from the ignition switch (pink arrow). The red wire from the window switch harness is soldered onto the large pink wire and the connection is taped up. Robert has also used a wire tie over the tape to insure that this connection will last as long as the truck. A soldered splice makes the best electrical connection possible and should be utilized whenever it is possible.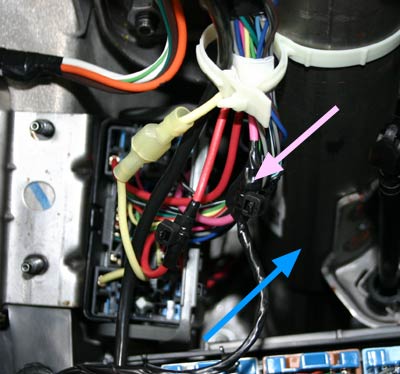 The light wire is brought out to the left front headlamp assembly and connected to the parking lamp circuit.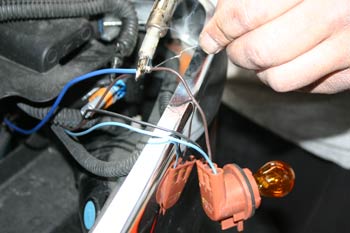 ---
Ready to Order? Need Prices?
Use our Online Catalog & Shopping Cart!





We have thousands of items in stock and ready to ship!
A-1 Electric
Local (310) 328-8500 Toll Free (888) 838-0506
Contact A1 Electric by Email

---
Ready to checkout?



SHOPPING CART

Online Catalog & Shopping Cart
Home | Company Information | Ordering Information | FAQ's
Electric Life Power Windows | Installation Articles | MES Power Door Locks
Alarms & Keyless Entry | Power Window Switches | OE Window Lift Motors | Colibri Power Windows
Accessories & Pop Door Kits | Street Rod Window Kits | SPAL | Classic Car Windows | Speedometer | Links to other Sites