Installing power door locks in a Toyota Tundra
with cable actuated lock mechanism.

Page 2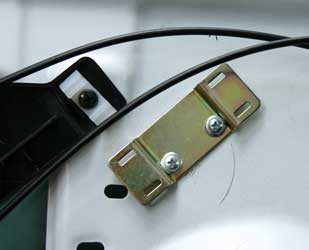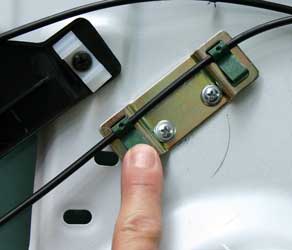 With the door panel removed and the plastic vapor barrier peeled away from the door, our next step is to locate a spot for our cable clamp bracket and door lock actuator. The bracket must be mounted in a spot that the cable can be clamped into it without overbending it or kinking it. The bracket is then screwed into place and the cable is snapped into it. The lock actuator must be mounted parallel to this bracket and cable assembly. It must be able to push the cable straight back and forth. On the Tundra, it was possible to mount everything so we get a straight shot from the actuator to the cable. This mounting is about as good as it gets. Notice that we used the supplied slotted bracket to mount the actuator over the large hole in the door. The actuator must also be mounted in a spot where it will not interfere with the door panel or other items.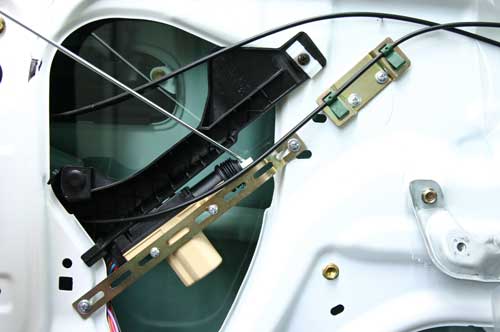 PREVIOUS
NEXT PAGE
---
Ready to Order? Need Prices?
Use our Online Catalog & Shopping Cart!





We have thousands of items in stock and ready to ship!
A-1 Electric
Local (310) 328-8500 Toll Free (888) 838-0506
Contact A1 Electric by Email

---
Ready to checkout?



SHOPPING CART

Online Catalog & Shopping Cart
Home | Company Information | Ordering Information | FAQ's
Electric Life Power Windows | Installation Articles | MES Power Door Locks
Alarms & Keyless Entry | Power Window Switches | OE Window Lift Motors | Colibri Power Windows
Accessories & Pop Door Kits | Street Rod Window Kits | SPAL | Classic Car Windows | Speedometer | Links to other Sites