Installing power door locks in a Toyota Tundra
with cable actuated lock mechanism.

Page 4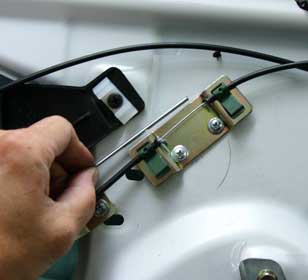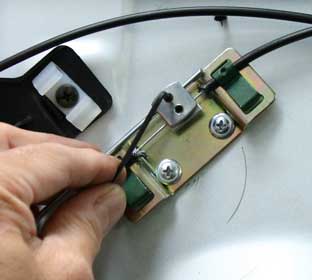 The rod from the actuator is carefully bent so that it lies parallel to the cable about an eighth inch away from it. The rod can be placed either above or below the cable. The clamp is then placed over the rod and saddled onto the cable. There is a small metal insert that fits between the clamp and the cable. This insert must be used to prevent damage to the cable. The lock actuators are adjusted and centered per the instructions and the allen screws on the clamps are tightened. In the photo below, we see a shot of our mounted assembly, all ready for wiring.
For an in depth view of a complete door lock installation see the article on installing power locks and keyless entry in a Chevy Silverado pickup. This article shows a complete installation of a typical lock kit, including wiring and keyless entry installation. The main difference in the installation is that the Toyota truck uses a able system and the Chevy truck uses standard rod linkage.
PREVIOUS
---
Ready to Order? Need Prices?
Use our Online Catalog & Shopping Cart!





We have thousands of items in stock and ready to ship!
A-1 Electric
Local (310) 328-8500 Toll Free (888) 838-0506
Contact A1 Electric by Email

---
Ready to checkout?



SHOPPING CART

Online Catalog & Shopping Cart
Home | Company Information | Ordering Information | FAQ's
Electric Life Power Windows | Installation Articles | MES Power Door Locks
Alarms & Keyless Entry | Power Window Switches | OE Window Lift Motors | Colibri Power Windows
Accessories & Pop Door Kits | Street Rod Window Kits | SPAL | Classic Car Windows | Speedometer | Links to other Sites