Installing power door locks and keyless entry
kit in a 2003 Chevrolet Silverado pickup.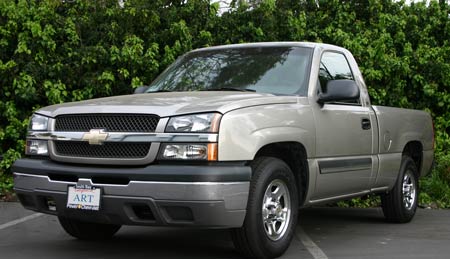 Having power door locks and keyless entry is practically a necessity these days. We're going to show you how easy it is to install a remote controlled keyless entry with an MES central door locking system. The current kit is the W01F-712T. Note that we also carry systems for cable locks, 4 door cars & trucks, etc. See our Keyless Entry and Lock page for more listings.
The MES central locking system is great. The actuators and central locking module are made in Switzerland. Much better quality than the Taiwan made stuff being sold elsewhere. Central locking basically means that by locking or unlocking either of the doors, the opposite door will also lock or unlock. This works whether you are using the key or flipping the interior knob. This type of system eliminates the need for switches in many vehicles.
The kits include almost everything necessary for a successful power door lock and keyless entry installation. You may, however, find it necessary to purchase misc. wiring connectors, electrical tape, solder, etc. from a local auto parts store.
NEXT PAGE
---
Ready to Order? Need Prices?
Use our Online Catalog & Application Guide!




We have thousands of items in stock and ready to ship!
A1 Electric Automotive Accessories
Local (310) 328-8500 Toll Free (888) 838-0506
Contact A1 Electric by Email

---
Ready to checkout?



SHOPPING CART
Home | Company Information | Ordering Information | FAQ's
Electric Life Power Windows | Installation Articles | MES Power Door Locks
Alarms & Keyless Entry | Power Window Switches | OE Window Lift Motors | Colibri Power Windows
Accessories & Pop Door Kits | Street Rod Window Kits | SPAL | Classic Car Windows | Speedometer | Links to other Sites
Tech Articles & Information
Mustang | Chevelle | Dodge Ram PU | Door Lock Installs | S10 Window Motor | Maxima | Grand Am | Silverado Windows
Cable Locks | Tacoma | Tacoma Tech | Ford F150 | 55 Chevy | Volvo | Chevy PU | Camaro | VW Golf | Chevy PU
Chevy Astro | Caravan | VW Beetle | Colibri-Astro | Mopar | Focus | Silverado Door Locks