Diagnosing & Replacing The Power Window Regulator
& Motor Assembly in a Grand Am

Power window systems in late vehicles are built on 3 basic platforms. The Bowden cable system is fast becoming the mechanism of choice by most of the auto manufacturers. The Grand Am is just one the many cars that use this style of window mechanism.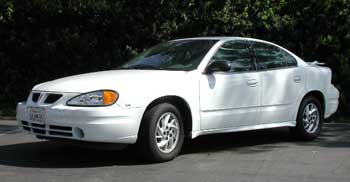 Before assuming that your car has a defective motor or regulator, a few quick checks are in order. First verify that the fuse or circuit breaker for the windows is OK. Most cars use the same power circuit for all of the windows, so if only one of them isn't working, it's a pretty safe bet that the fuses are OK.
The car we're checking out is a 2002 Pontiac Grand Am 4 door sedan. We'll be looking at the drivers side (left) front window. The cable mechanism used in this vehicle is typical of many late model GM, Ford and Chrysler vehicles as well as most Asian imports. These systems are light weight, extremely adaptable and inexpensive to manufacture making them the system of choice. Unfortunately, high reliability isn't on the top of this list.
Tap the window switch for the bad window and carefully listen for motor noise, etc. in the door. No noise may mean a faulty switch, motor, regulator or wiring. A motor whirring or grinding sounds may indicate a faulty regulator. In either case, we need to pull the door panel and do a little investigative work to be sure of the fault.
NEXT
---
Ready to Order? Need Prices?
Use our Online Catalog & Application Guide!




We have thousands of items in stock and ready to ship!
A1 Electric Automotive Accessories
Local (310) 328-8500 Toll Free (888) 838-0506
Contact A1 Electric by Email

---
Ready to checkout?



SHOPPING CART
Home | Company Information | Ordering Information | FAQ's
Electric Life Power Windows | Installation Articles | MES Power Door Locks
Alarms & Keyless Entry | Power Window Switches | OE Window Lift Motors | Colibri Power Windows
Accessories & Pop Door Kits | Street Rod Window Kits | SPAL | Classic Car Windows | Speedometer | Links to other Sites
Tech Articles & Information
Mustang | Chevelle | Dodge Ram PU | Door Lock Installs | S10 Window Motor | Maxima | Grand Am | Silverado Windows
Cable Locks | Tacoma | Tacoma Tech | Ford F150 | 55 Chevy | Volvo | Chevy PU | Camaro | VW Golf | Chevy PU
Chevy Astro | Caravan | VW Beetle | Colibri-Astro | Mopar | Focus | Silverado Door Locks