Diagnosing & Replacing The Power Window Regulator & Motor Assembly in a Pontiac Grand Am
Page 3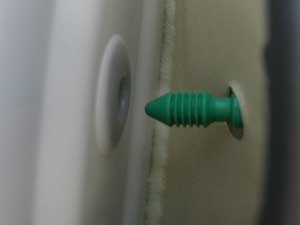 With all of the trim pieces and retaining screws removed, the panel is carefully pryed up. There is an access hole/slot in the bottom of the door. Starting at this hole and we work our way across the bottom and then up the sides of the panel, using a door panel clip prying tool to carefully pry up all of the clips holding the panel to the door.
The corner piece opposite the mirror is also pryed off of the door and the wiring going to it is unplugged.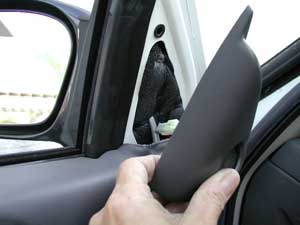 NEXT
---
Ready to Order? Need Prices?
Use our Online Catalog & Shopping Cart!





We have thousands of items in stock and ready to ship!
A-1 Electric
Local (310) 328-8500 Toll Free (888) 838-0506
Contact A1 Electric by Email

---
Ready to checkout?



SHOPPING CART

Online Catalog & Shopping Cart
Home | Company Information | Ordering Information | FAQ's
Electric Life Power Windows | Installation Articles | MES Power Door Locks
Alarms & Keyless Entry | Power Window Switches | OE Window Lift Motors | Colibri Power Windows
Accessories & Pop Door Kits | Street Rod Window Kits | SPAL | Classic Car Windows | Speedometer | Links to other Sites