Diagnosing & Replacing The Power Window Regulator & Motor Assembly in a Pontiac Grand Am
Page 4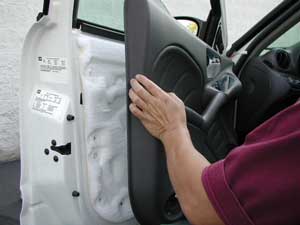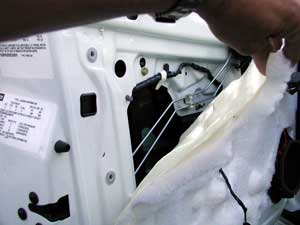 The door panel is lifted up and off of the door. The door panel is placed in a safe place out of harms way. The white liner in the upper right photo serves a few purposes. It is primarily a moisture barrier, but it also helps cut down on wind and road noise as well as keep drafts out of the car. This liner must be carefully peeled off and put aside.
The next step is to properly diagnose the window problem. The first step in any diagnosis is a thorough visual check. Look for broken plastic guides and mounting parts, broken or frayed cables, etc. This style of mechanism is fairly frail and is very prone to breaking cables, guides, etc.
If the unit check out visually, the window switch need to be plugged in and the ignition turned on to check the voltage at the motor. To properly check late model vehicles (most cars and trucks from 1980 up), the plus probe from the meter must be connected to one of the motor wires and the negative probe to the other wire. If you are using a digital meter, polarity is not important. With the switch depressed in both the up and down positions, we are getting a reading of 12.11 volts at the back of the motor. If the voltage reading in either position was 0 or below 11 volts, that would indicate that there is a problem elsewhere in the switches or wiring. Having 12 volts at the motor confirms that our switches and the wiring is working properly and the motor or regulator is defective.
NEXT
---
Ready to Order? Need Prices?
Use our Online Catalog & Shopping Cart!





We have thousands of items in stock and ready to ship!
A-1 Electric
Local (310) 328-8500 Toll Free (888) 838-0506
Contact A1 Electric by Email

---
Ready to checkout?



SHOPPING CART

Online Catalog & Shopping Cart
Home | Company Information | Ordering Information | FAQ's
Electric Life Power Windows | Installation Articles | MES Power Door Locks
Alarms & Keyless Entry | Power Window Switches | OE Window Lift Motors | Colibri Power Windows
Accessories & Pop Door Kits | Street Rod Window Kits | SPAL | Classic Car Windows | Speedometer | Links to other Sites