Diagnosing & Replacing The Power Window Regulator & Motor Assembly in a Pontiac Grand Am
Page 5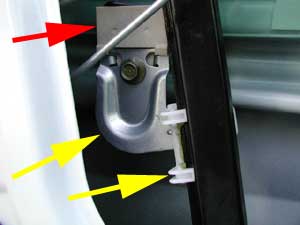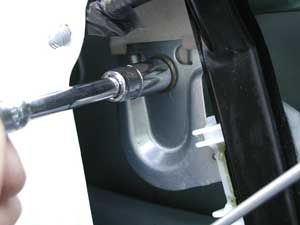 The above shots show how the regulator is attached to the glass. The plastic part with red arrow is permanently glued to the window (or at least it should be). This plastic bracket comes as part of the window assembly. It is not part of the regulator. The yellow arrows point to the window mounting bracket that is attached to the regulator assembly via the white plastic clips. These white plastic clips are not replaceable and if they are broken, will require replacing the entire motor and regulator assembly.
There are 2 bolts holding the regulator to the glass. One on the bracket in the front track and one on the bracket in the rear track. These bolts are removed and the window is raised off of the brackets and secured into the top of the door.
There are many different ways to secure the window, but we have chosen to use the blue long mask masking tape. This tape is available at any hardware store, it is UV safe (it won't get sticky or dry out in the sun) and safe to apply over almost any paint.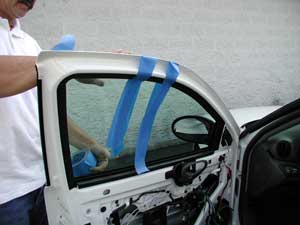 NEXT
---
Ready to Order? Need Prices?
Use our Online Catalog & Shopping Cart!





We have thousands of items in stock and ready to ship!
A-1 Electric
Local (310) 328-8500 Toll Free (888) 838-0506
Contact A1 Electric by Email

---
Ready to checkout?



SHOPPING CART

Online Catalog & Shopping Cart
Home | Company Information | Ordering Information | FAQ's
Electric Life Power Windows | Installation Articles | MES Power Door Locks
Alarms & Keyless Entry | Power Window Switches | OE Window Lift Motors | Colibri Power Windows
Accessories & Pop Door Kits | Street Rod Window Kits | SPAL | Classic Car Windows | Speedometer | Links to other Sites