Diagnosing & Replacing The Power Window Motor In An S10 Blazer

Power window systems in late vehicles are built on 3 basic platforms. The scissors system is by far the most popular, and is what this article will show. Although the vehicle shown is a Chevy S10 pickup, most scissors systems (especially GM's) are very similar.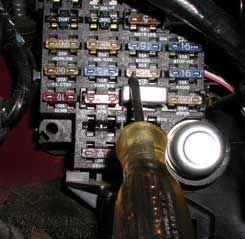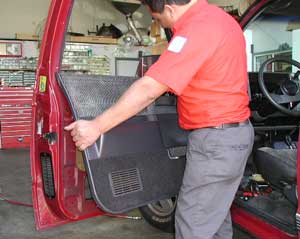 The first step in diagnosing a power window motor that doesn't move is to check the fuses and/or circuit breakers! Check for power with the ignition key in the on position.
If the power checks out, remove the door panel and liner on the offending door.
NEXT
---
Ready to Order? Need Prices?
Use our Online Catalog & Application Guide!




We have thousands of items in stock and ready to ship!
A1 Electric Automotive Accessories
Local (310) 328-8500 Toll Free (888) 838-0506
Contact A1 Electric by Email

---
Ready to checkout?



SHOPPING CART
Home | Company Information | Ordering Information | FAQ's
Electric Life Power Windows | Installation Articles | MES Power Door Locks
Alarms & Keyless Entry | Power Window Switches | OE Window Lift Motors | Colibri Power Windows
Accessories & Pop Door Kits | Street Rod Window Kits | SPAL | Classic Car Windows | Speedometer | Links to other Sites
Tech Articles & Information
Mustang | Chevelle | Dodge Ram PU | Door Lock Installs | S10 Window Motor | Maxima | Grand Am | Silverado Windows
Cable Locks | Tacoma | Tacoma Tech | Ford F150 | 55 Chevy | Volvo | Chevy PU | Camaro | VW Golf | Chevy PU
Chevy Astro | Caravan | VW Beetle | Colibri-Astro | Mopar | Focus | Silverado Door Locks