Installing an Electric Life EL02-K Street Rod
Power Window Kit in a 1955 Chevy 150 Sedan.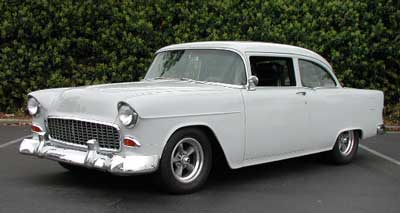 The EL02-K power window kit that was installed in this 55 Chevy has been superseded by the EL1000-K. The EL02-K and EL1000-K are universal window lift kits intended to be installed in street rods and other vehicles with flat window glass. The EL1000-K is currently our most popular street rod kit. It does everything the EL02-K did, plus with it's new innovative design, the EL1000-K is more adjustable, making installation easier than ever.
Although the EL1000-K is not exactly the same as the EL02-K, the installation basics will remain the same.
NEXT PAGE
Article Pages
1 2 3 4 5 6 7 8 9 10 11 12 13 14 15 16 17 18 19 20
---
Ready to Order? Need Prices?
Use our Online Catalog & Application Guide!




We have thousands of items in stock and ready to ship!
A1 Electric Automotive Accessories
Local (310) 328-8500 Toll Free (888) 838-0506
Contact A1 Electric by Email

---
Ready to checkout?



SHOPPING CART
Home | Company Information | Ordering Information | FAQ's
Electric Life Power Windows | Installation Articles | MES Power Door Locks
Alarms & Keyless Entry | Power Window Switches | OE Window Lift Motors | Colibri Power Windows
Accessories & Pop Door Kits | Street Rod Window Kits | SPAL | Classic Car Windows | Speedometer | Links to other Sites
Tech Articles & Information
Mustang | Chevelle | Dodge Ram PU | Door Lock Installs | S10 Window Motor | Maxima | Grand Am | Silverado Windows
Cable Locks | Tacoma | Tacoma Tech | Ford F150 | 55 Chevy | Volvo | Chevy PU | Camaro | VW Golf | Chevy PU
Chevy Astro | Caravan | VW Beetle | Colibri-Astro | Mopar | Focus | Silverado Door Locks