Installing an Electric Life EL02-K Street Rod
Power Window Kit in a 1955 Chevy 150 Sedan.

Page 3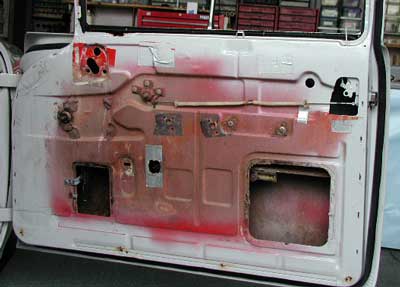 With the door panels removed, we need to take a look at the door to make sure our kit is going to fit. The window opening is 13 1/2 inches tall. Our power window regulator has about 20 inches of travel. That means our regulator will have more than enough travel, to raise and lower the window completely. We also take some measurements between the glass and the door to make sure we have at least an inch of space for our regulator. We also need at least 6 inches of space under the glass for the motor. There is almost 12 inches between the bottom of the glass and the bottom of the door, so we'll have plenty of room.
This is also a good time to check the interior workings in the door, make any necessary repairs and lubricate all of the moving parts.
PREVIOUS
NEXT PAGE
Article Pages
1 2 3 4 5 6 7 8 9 10 11 12 13 14 15 16 17 18 19 20
---
Ready to Order? Need Prices?
Use our Online Catalog & Shopping Cart!





We have thousands of items in stock and ready to ship!
A-1 Electric
Local (310) 328-8500 Toll Free (888) 838-0506
Contact A1 Electric by Email

---
Ready to checkout?



SHOPPING CART

Online Catalog & Shopping Cart
Home | Company Information | Ordering Information | FAQ's
Electric Life Power Windows | Installation Articles | MES Power Door Locks
Alarms & Keyless Entry | Power Window Switches | OE Window Lift Motors | Colibri Power Windows
Accessories & Pop Door Kits | Street Rod Window Kits | SPAL | Classic Car Windows | Speedometer | Links to other Sites