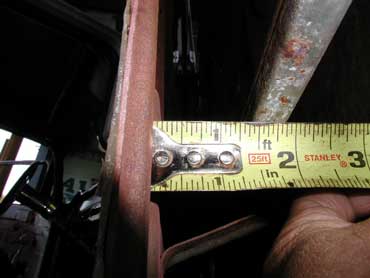 The photo above is a shot from inside the passenger door facing at a slight angle upwards. Between 1 3/8 and 1 7/8 inches, you can see the bottom of the glass and glass sash.
Now we'll need to use a few of those measurements we took before. At the top of the door, we have 1 inch between the door and the glass. At the bottom, with the glass in the down position, we have 1 3/8 inches.
Our measurements also show that the bottom of the window and the roller channel will only be about an inch from the top of the door when the window is rolled up. Ideally, we like to see about 1 1/2 inches of glass sticking down in the door. In order to keep our regulator glass mount plate (the rectangular piece with 2 holes on the regulator assembly) from hitting the top of the door, we need to redrill the mounting holes towards the top of the mounting plate. (Note: This last step is unnecessary on the EL1000-K. The new regulator mount is now fully adjustable!)
As a note, if you are planning on replacing the glass, plan on cutting the glass so that it extends into the door about an 1 1/2 (assuming that you will still have enough room in the bottom of the door for the motor). Also, ask your glass guy about tempered glass. Tempered glass is significantly stronger than regular safety glass and it's also a lot safer. When tempered glass breaks, it turns into small crumbs instead of knife like pieces.