Installing an Electric Life EL02-K Street Rod
Power Window Kit in a 1955 Chevy 150 Sedan.

Page 10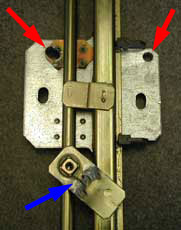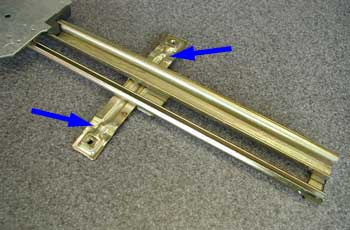 We have drilled new mounting holes as high in the plate as possible (red arrows). This should give us the extra travel that we need. (Note: This step is not necessary with the EL1000-K. The new regulator mounting plate is fully adjustable!)
In order to mount this regulator with only an inch of space, the upper mounting brackets and the lower mounting bracket is flattened out (blue arrows). The kit comes with the brackets pre bent for a window to door clearance of 1 1/2 inches. In order to function properly, the regulator must be mounted parallel to the glass. On this vehicle, spacing was perfect with the brackets all flattened out. On many vehicles, it may be necessary to place shims under the brackets to raise them up, rather than flattening them out to lower them.
Our brackets are flattened out and we are ready to mount our regulator in the door. We use a piece of cardboard to fabricate a mounting/drilling template. Notice the vertical line. We'll use this line to make sure that our regulator is mounted parallel to the window travel.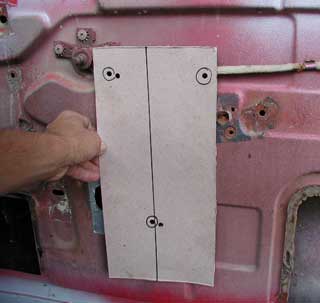 PREVIOUS
NEXT PAGE
Article Pages
1 2 3 4 5 6 7 8 9 10 11 12 13 14 15 16 17 18 19 20
---
Ready to Order? Need Prices?
Use our Online Catalog & Shopping Cart!





We have thousands of items in stock and ready to ship!
A-1 Electric
Local (310) 328-8500 Toll Free (888) 838-0506
Contact A1 Electric by Email

---
Ready to checkout?



SHOPPING CART

Online Catalog & Shopping Cart
Home | Company Information | Ordering Information | FAQ's
Electric Life Power Windows | Installation Articles | MES Power Door Locks
Alarms & Keyless Entry | Power Window Switches | OE Window Lift Motors | Colibri Power Windows
Accessories & Pop Door Kits | Street Rod Window Kits | SPAL | Classic Car Windows | Speedometer | Links to other Sites