Installing an Electric Life EL02-K Street Rod
Power Window Kit in a 1955 Chevy 150 Sedan.

Page 17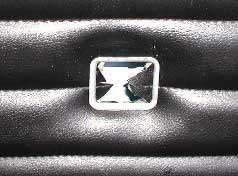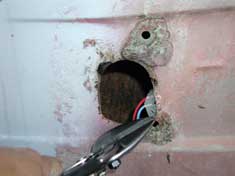 The switches are marked and cut into the door panels, right over the existing crank handle holes. The upholstery trim retainer rings are installed into the cut holes and the metal tabs on the rings are bent towards the back of the door panel. These rings are only used when mounting the chrome switches into vinyl or cloth upholstery to hold down the upholstery. On steel or hard plastic, these rings should not be used. Note that the cardboard door panel has been cut out in a rectangle, but the vinyl has been cut in an "X" shape from corner to corner.
A little sheet metal also needs to be trimmed on the door to allow room for the back side of the switches and connectors. We don't want our switches and wiring to short out on the sheet metal. Also note the the edges of the hole in the sheet metal will be covered with duct tape before the door is reassembled to further discourage shorting.
The blue and black wires extending from the switch connector are then connected to the blue and black motor wires.
PREVIOUS
NEXT PAGE
Article Pages
1 2 3 4 5 6 7 8 9 10 11 12 13 14 15 16 17 18 19 20
---
Ready to Order? Need Prices?
Use our Online Catalog & Shopping Cart!





We have thousands of items in stock and ready to ship!
A-1 Electric
Local (310) 328-8500 Toll Free (888) 838-0506
Contact A1 Electric by Email

---
Ready to checkout?



SHOPPING CART

Online Catalog & Shopping Cart
Home | Company Information | Ordering Information | FAQ's
Electric Life Power Windows | Installation Articles | MES Power Door Locks
Alarms & Keyless Entry | Power Window Switches | OE Window Lift Motors | Colibri Power Windows
Accessories & Pop Door Kits | Street Rod Window Kits | SPAL | Classic Car Windows | Speedometer | Links to other Sites