Installing an Electric Life EL02-K Street Rod
Power Window Kit in a 1955 Chevy 150 Sedan.

Page 14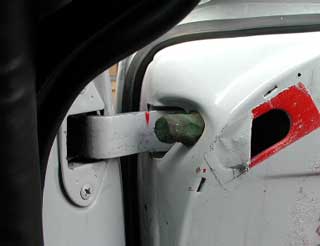 We use a piece of modeling clay to check clearances and angles in the door jamb. We also pull off the kick panel covers to check out the clearances we have in the kick panel area. The loop needs to slide in and out from either the door or door jamb, so one of the sides will need to have about 5 inches for the loop to run into.
We chose a spot high on the door to mount or loop. This location provides a straight shot from door to door jamb when the door is closed and it allows the loop to pull out in a smooth curve when the door is opened. These loops were really designed for doors with exterior hinges, so the 55's inside hinges make it tougher to mount the loops.
When our hole locations are finally decided on, we use a step drill to make a 3/4 inch hole in the door and the jamb.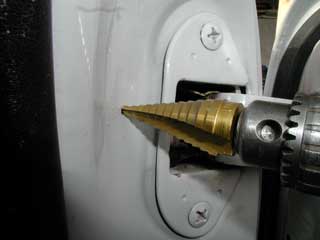 PREVIOUS
NEXT PAGE
Article Pages
1 2 3 4 5 6 7 8 9 10 11 12 13 14 15 16 17 18 19 20
---
Ready to Order? Need Prices?
Use our Online Catalog & Shopping Cart!





We have thousands of items in stock and ready to ship!
A-1 Electric
Local (310) 328-8500 Toll Free (888) 838-0506
Contact A1 Electric by Email

---
Ready to checkout?



SHOPPING CART

Online Catalog & Shopping Cart
Home | Company Information | Ordering Information | FAQ's
Electric Life Power Windows | Installation Articles | MES Power Door Locks
Alarms & Keyless Entry | Power Window Switches | OE Window Lift Motors | Colibri Power Windows
Accessories & Pop Door Kits | Street Rod Window Kits | SPAL | Classic Car Windows | Speedometer | Links to other Sites