Installing an Electric Life EL02-K Street Rod
Power Window Kit in a 1955 Chevy 150 Sedan.

Page 16
We used a Sawzall to clear away a small piece of sheet metal in the kick panel that would prevent the stainless steel tube from entering the passenger compartment.
With the wire loops installed, the wiring is passed from the door, through the loop and into the vehicle. The door is opened and closed slowly to make sure the wiring and loops are going to clear everything. The wiring and loop are going to need a little friendly persuasion to make things work nicely. We used a 6 inch piece of 3/4 inch emt pipe to fit over the end of the sleeve. The tube is tie strapped to the sheet metal in the inner kick panel. This tube will guide our wires and stainless steel tube out of harms way when the door is closed.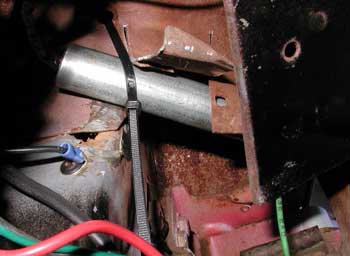 PREVIOUS
NEXT PAGE
Article Pages
1 2 3 4 5 6 7 8 9 10 11 12 13 14 15 16 17 18 19 20
---
Ready to Order? Need Prices?
Use our Online Catalog & Shopping Cart!





We have thousands of items in stock and ready to ship!
A-1 Electric
Local (310) 328-8500 Toll Free (888) 838-0506
Contact A1 Electric by Email

---
Ready to checkout?



SHOPPING CART

Online Catalog & Shopping Cart
Home | Company Information | Ordering Information | FAQ's
Electric Life Power Windows | Installation Articles | MES Power Door Locks
Alarms & Keyless Entry | Power Window Switches | OE Window Lift Motors | Colibri Power Windows
Accessories & Pop Door Kits | Street Rod Window Kits | SPAL | Classic Car Windows | Speedometer | Links to other Sites