Installing an Electric Life EL02-K Street Rod
Power Window Kit in a 1955 Chevy 150 Sedan.

Page 15
The aluminum sleeve is inserted into the hole in the body and the tube and sleeve assembly are inserted into the door. The loose end of the stainless tube is inserted into the aluminum sleeve on the body. The nuts are snugged up on the sleeves. Too tight and you'll strip the aluminum. We also added some glue between the stainless steel braided tubing and the sleeve to prevent it from coming loose.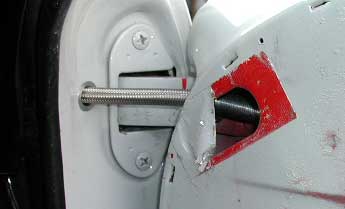 PREVIOUS
NEXT PAGE
Article Pages
1 2 3 4 5 6 7 8 9 10 11 12 13 14 15 16 17 18 19 20
---
Ready to Order? Need Prices?
Use our Online Catalog & Shopping Cart!





We have thousands of items in stock and ready to ship!
A-1 Electric
Local (310) 328-8500 Toll Free (888) 838-0506
Contact A1 Electric by Email

---
Ready to checkout?



SHOPPING CART

Online Catalog & Shopping Cart
Home | Company Information | Ordering Information | FAQ's
Electric Life Power Windows | Installation Articles | MES Power Door Locks
Alarms & Keyless Entry | Power Window Switches | OE Window Lift Motors | Colibri Power Windows
Accessories & Pop Door Kits | Street Rod Window Kits | SPAL | Classic Car Windows | Speedometer | Links to other Sites