Installing Power door locks & Keyless entry
in a Chevy Silverado pickup truck.

Completed Job
Page 10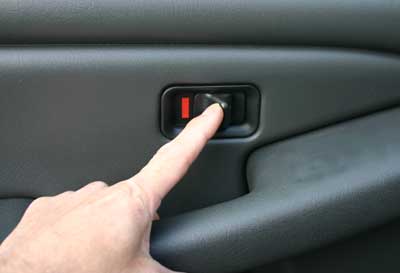 The original lock knob now serves as our power door lock switch. No extra switches need to be mounted. By simply locking or unlocking either of the front doors, the other doors will also lock or unlock. If desired, a switch could have been added to the system, but in this Chevy truck, it's totally unnecessary.
Our keyless entry also makes locking and unlocking the truck a breeze. The doors lock and unlock with the remote control from over 50 feet (range varies depending on vehicle, mounting location, local conditions, etc.). The keyless entry can also be programmed to add an ignition locking feature to the truck. Starting the truck automatically locks the doors and shutting it off unlocks the doors.
See our full line of Keyless Entry systems and Power Door Lock systems
---
Ready to Order? Need Prices?
Use our Online Catalog & Shopping Cart!





We have thousands of items in stock and ready to ship!
A-1 Electric
Local (310) 328-8500 Toll Free (888) 838-0506
Contact A1 Electric by Email

---
Ready to checkout?



SHOPPING CART

Online Catalog & Shopping Cart
Home | Company Information | Ordering Information | FAQ's
Electric Life Power Windows | Installation Articles | MES Power Door Locks
Alarms & Keyless Entry | Power Window Switches | OE Window Lift Motors | Colibri Power Windows
Accessories & Pop Door Kits | Street Rod Window Kits | SPAL | Classic Car Windows | Speedometer | Links to other Sites