Installing Power door locks & Keyless entry
in a Chevy Silverado pickup truck.

Prepping for door lock actuator installation

Page 4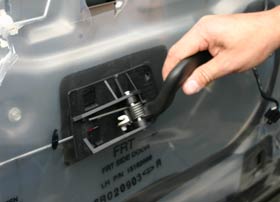 A single bolt hold the door handle assembly onto the door. The bolt is removed and the linkage rod is unclipped and removed. The handle is then removed from the door.
The plastic moisture barrier is carefully peeled off from the door (see green arrows below). This barrier must be retained and reinstalled at the jobs completion. This barrier keeps water from ruining things inside of the truck and also serves to cut wind and road noise.
The door lock linkage rod runs from the knob we previously removed to the door latch (blue arrow). Even though this rod is bent like a pretzel, it only moves horizontally as shown by the red arrows.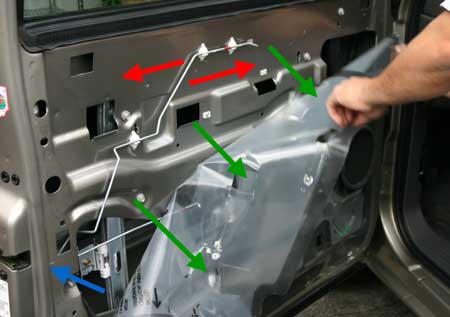 PREVIOUS
NEXT PAGE
---
Ready to Order? Need Prices?
Use our Online Catalog & Shopping Cart!





We have thousands of items in stock and ready to ship!
A-1 Electric
Local (310) 328-8500 Toll Free (888) 838-0506
Contact A1 Electric by Email

---
Ready to checkout?



SHOPPING CART

Online Catalog & Shopping Cart
Home | Company Information | Ordering Information | FAQ's
Electric Life Power Windows | Installation Articles | MES Power Door Locks
Alarms & Keyless Entry | Power Window Switches | OE Window Lift Motors | Colibri Power Windows
Accessories & Pop Door Kits | Street Rod Window Kits | SPAL | Classic Car Windows | Speedometer | Links to other Sites