Installing Power door locks & Keyless entry
in a Chevy Silverado pickup truck.

Wiring & Cleanup
Page 9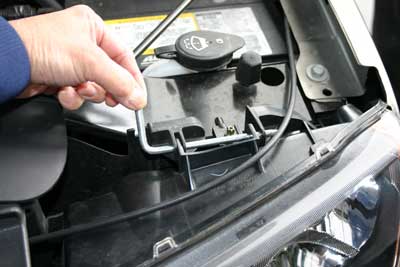 The parking lights on late model Chevy trucks are wired through a relay in the engine compartment, making adding light flash to the keyless entry a little more difficult than on other models. Usually we can find our parking light wire near the light switch or in the kick panel area. On these trucks the wire in the vehicle needs a low level ground signal to trip the relay. Since our keyless entry has a high power positive output for the lights, we found it easier to extend and run the wire out to the left front parking light. One clip rod holds the light in it's frame. Once the headlight assembly is pulled forward, our light wire is connected to the parking light wire behind the headlight assembly. This wire is typically brown on GM vehicles.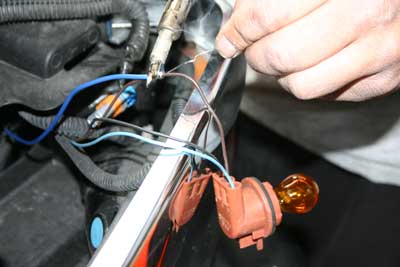 With all the wiring completed, the door locks and keyless entry are checked for proper function. The door panels, under dash panels and kick panels are replaced and the truck is cleaned up.
---
Ready to Order? Need Prices?
Use our Online Catalog & Shopping Cart!





We have thousands of items in stock and ready to ship!
A-1 Electric
Local (310) 328-8500 Toll Free (888) 838-0506
Contact A1 Electric by Email

---
Ready to checkout?



SHOPPING CART

Online Catalog & Shopping Cart
Home | Company Information | Ordering Information | FAQ's
Electric Life Power Windows | Installation Articles | MES Power Door Locks
Alarms & Keyless Entry | Power Window Switches | OE Window Lift Motors | Colibri Power Windows
Accessories & Pop Door Kits | Street Rod Window Kits | SPAL | Classic Car Windows | Speedometer | Links to other Sites