Installing Power door locks & Keyless entry
in a Chevy Silverado pickup truck.

Installing the wiring
Page 8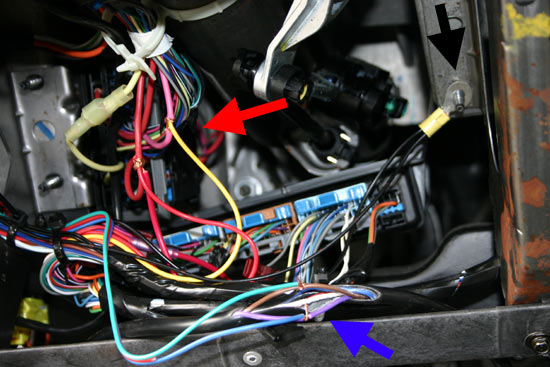 The door lock system needs only battery power and ground to operate. For basic operation, the keyless entry needs battery power, ignition "on" power and ground. Robert has chosen to connect the constant power and ignition power wires to the ignition switch wiring loom. The red arrow points to the constant power connection and the ignition power connection. Note that the power for the door locks is run through an inline fuse holder and 20 amp fuse. The keyless entry is also fused to protect against damage in the event of a short circuit. On most GM vehicles the heavy red wire is constant power and the pink wire is the ignition "on" wire. These wires are soldered together and taped up with electrical tape. This will give us a permanent, trouble free connection.
Notice the connector in the heavy yellow wire. That's the starter wire. Apparently someone else has worked on this truck before and had a starter kill installed and later removed.
The black ground wires are terminated into a ring terminal and bolted to a stud on the chassis (Black arrow). Grounding to a solid clean ground point is imperative to proper operation.
The green and blue lock and unlock wires from the keyless entry are taped into purple and brown wires in the door lock harness. These were also soldered and taped. (blue arrow)
---
Ready to Order? Need Prices?
Use our Online Catalog & Shopping Cart!





We have thousands of items in stock and ready to ship!
A-1 Electric
Local (310) 328-8500 Toll Free (888) 838-0506
Contact A1 Electric by Email

---
Ready to checkout?



SHOPPING CART

Online Catalog & Shopping Cart
Home | Company Information | Ordering Information | FAQ's
Electric Life Power Windows | Installation Articles | MES Power Door Locks
Alarms & Keyless Entry | Power Window Switches | OE Window Lift Motors | Colibri Power Windows
Accessories & Pop Door Kits | Street Rod Window Kits | SPAL | Classic Car Windows | Speedometer | Links to other Sites