Installing Power door locks & Keyless entry
in a Chevy Silverado pickup truck.

Mounting the door lock actuators

Page 5
Our objective is to use the electric actuator to move the rod back and forth. Our door lock actuator must be mounted so that it is parallel to the throw of the door lock linkage in the truck door. It must also be mounted where it will not interfere with the window or window mechanism and where it will not interfere with the door panel. We have chosen the spot circled in red above to mount the actuator.
The strap from the kit is used to span the hole in the door. The nose of the actuator is mounted to the strap. A 3/16 inch hole is drilled into the door for the rear actuator mounting screw (blue arrows). With the actuator mounted, the lock actuator rod is bent to match the original linkage and cut to length.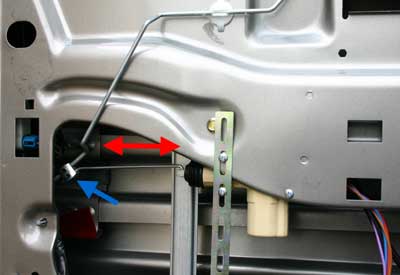 Note that the way we have our actuator mounted, it's stroke will move forward and back, following the same line as the original rod (red arrow). The actuator rod is centered and aligned per instructions in the kit and the rod clamp is tightened in place with the allen wrench provided in the kit. This centering step is very important for central locking kits. Both the door lock actuator and the original lock linkage must pass the center of their respective movements at the same time.
---
Ready to Order? Need Prices?
Use our Online Catalog & Shopping Cart!





We have thousands of items in stock and ready to ship!
A-1 Electric
Local (310) 328-8500 Toll Free (888) 838-0506
Contact A1 Electric by Email

---
Ready to checkout?



SHOPPING CART

Online Catalog & Shopping Cart
Home | Company Information | Ordering Information | FAQ's
Electric Life Power Windows | Installation Articles | MES Power Door Locks
Alarms & Keyless Entry | Power Window Switches | OE Window Lift Motors | Colibri Power Windows
Accessories & Pop Door Kits | Street Rod Window Kits | SPAL | Classic Car Windows | Speedometer | Links to other Sites