Installing power door locks in a Toyota Tundra
with cable actuated lock mechanism.

Page 3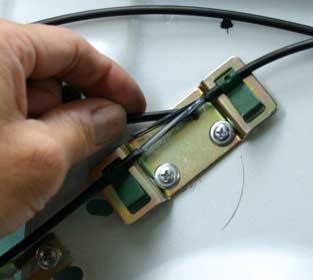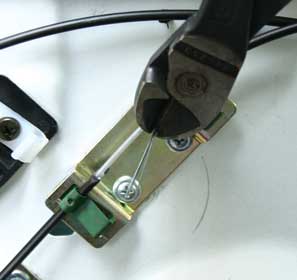 Once the bracket and actuator are mounted, we need to remove the housing from the cable. Most cable housings consist of a single layer of plastic. This particular housing consists of 3 layers. A black plastic outer cover. Steel wire strands and an inner plastic tube. The steel strands are spiral wrapped over the inner plastic tube.
With the cable clamped to the bracket, the outer layer is first cut off. Then the cable strands are carefully cut away, a few strands at a time. Lastly, the inner plastic tube is cut away with a knife. Care must be taken not to nick or cut the inner steel cable. The cable casing should now be stripped away between the indentations on the bracket.
If it becomes necessary to remove the cables from the clamps, the cable must be marked carefully so that it can be reinstalled in the exact same position.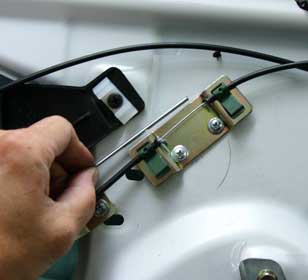 PREVIOUS
NEXT PAGE
---
Ready to Order? Need Prices?
Use our Online Catalog & Shopping Cart!





We have thousands of items in stock and ready to ship!
A-1 Electric
Local (310) 328-8500 Toll Free (888) 838-0506
Contact A1 Electric by Email

---
Ready to checkout?



SHOPPING CART

Online Catalog & Shopping Cart
Home | Company Information | Ordering Information | FAQ's
Electric Life Power Windows | Installation Articles | MES Power Door Locks
Alarms & Keyless Entry | Power Window Switches | OE Window Lift Motors | Colibri Power Windows
Accessories & Pop Door Kits | Street Rod Window Kits | SPAL | Classic Car Windows | Speedometer | Links to other Sites