Installing an Electric Life Power Window Kit
In a 1996 Volkswagen Golf

Page 2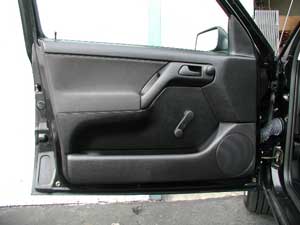 Some shots of our Volkswagen before the installation starts. We're going to put power windows into all 4 of the doors on this 1996 Golf. The Electric Life VK33-MAN kit includes everything we need to install power windows in this Golf. There are 3 versions of the Golf/Jetta power window kit. The VK33-MAN fits 1996-1998 vehicles with manual mirror controls on the door handles. The VK33-EL fits 1996-1998 vehicles with a single electric mirror control switch on the drivers door handle. The VK33-KIT fits all of the 1992-1995 vehicles.
Before installing the power window kit our installer reads all of the instructions and verifies that all of the components are in the box. Although the shipping staff at A1 Electric looks through each kit to verify completeness, there are some that slip through with missing pigtails, hardware, etc. It's never fun to be missing parts after starting an installation.
PREVIOUS
NEXT PAGE
Article Pages
1 2 3 4 5 6 7 8 9 10 11 12 13 14 15 16 17 18 19 20 21 22 23 24 25
---
Ready to Order? Need Prices?
Use our Online Catalog & Shopping Cart!





We have thousands of items in stock and ready to ship!
A-1 Electric
Local (310) 328-8500 Toll Free (888) 838-0506
Contact A1 Electric by Email

---
Ready to checkout?



SHOPPING CART

Online Catalog & Shopping Cart
Home | Company Information | Ordering Information | FAQ's
Electric Life Power Windows | Installation Articles | MES Power Door Locks
Alarms & Keyless Entry | Power Window Switches | OE Window Lift Motors | Colibri Power Windows
Accessories & Pop Door Kits | Street Rod Window Kits | SPAL | Classic Car Windows | Speedometer | Links to other Sites