Installing an Electric Life Power Window Kit In a 1996 Volkswagen Golf

Page 15
With the regulators mounted and working, its time to get our wiring underway. We're going to start right in the middle of the car. The blanking plate just below the air conditioning controls is carefully pried off. We also pulled out the switches to the left of it to give us a little more room to work. This is where our rear window switches will mount.
The rear wiring loom is spread out and the connector block that mates with our switch is pulled up and into the switch opening using a fish tape. The rest of the loom remains behind the center console for now. A hanger wire or large gauge electrical wire could also be used in place of the fish tape to aid in pulling the wires through the small cramped openings in the center console.
Our new switch is plugged onto the loom and pressed into place on the center console. This switch not only allows the driver to open and close the rear windows, it also allows the driver to lock out the rear window switches, preventing infants in the rear seat to operate the windows (center button with window logo).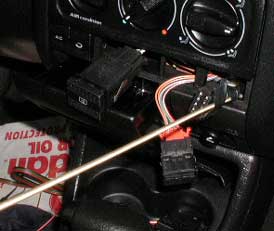 PREVIOUS
NEXT PAGE
Article Pages
1 2 3 4 5 6 7 8 9 10 11 12 13 14 15 16 17 18 19 20 21 22 23 24 25
---
Ready to Order? Need Prices?
Use our Online Catalog & Shopping Cart!





We have thousands of items in stock and ready to ship!
A-1 Electric
Local (310) 328-8500 Toll Free (888) 838-0506
Contact A1 Electric by Email

---
Ready to checkout?



SHOPPING CART

Online Catalog & Shopping Cart
Home | Company Information | Ordering Information | FAQ's
Electric Life Power Windows | Installation Articles | MES Power Door Locks
Alarms & Keyless Entry | Power Window Switches | OE Window Lift Motors | Colibri Power Windows
Accessories & Pop Door Kits | Street Rod Window Kits | SPAL | Classic Car Windows | Speedometer | Links to other Sites