Installing an Electric Life Power Window Kit In a 1996 Volkswagen Golf

Page 14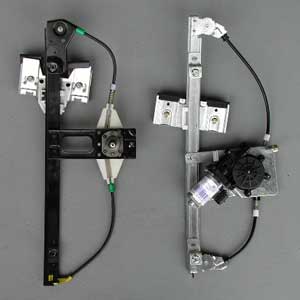 In the photo above, we can see how close our Electric Life regulator is to the factory regulator. The basic shape and configuration is very similar to the factory configuration, making this kit extremely simple to install.
The power assembly is inserted into the door and bolted up to the same 3 holes that the manual unit was mounted to (2 middle photos below). Our window is lowered into the glass clamps and the clamps are tightened.
It is important to note that the window should be clamped to the glass while it is close to the top of the door and the clamps are accessible through the access holes shown on the previous page. This is the factory's way to properly align the window.
If the clamps on the electric regulator are not accessible through the access holes, power must be applied briefly to the motor to move the mounts. We used the battery from our cordless drill to do this (bottom photo). A pair of wires from the car battery would do the same thing. To move the motor/regulator power must be applied to one of the motor wires and ground to the other. Reversing the power and ground wires will reverse the motors direction of travel.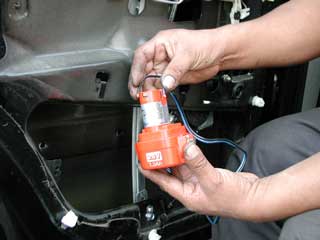 PREVIOUS
NEXT PAGE
Article Pages
1 2 3 4 5 6 7 8 9 10 11 12 13 14 15 16 17 18 19 20 21 22 23 24 25
---
Ready to Order? Need Prices?
Use our Online Catalog & Shopping Cart!





We have thousands of items in stock and ready to ship!
A-1 Electric
Local (310) 328-8500 Toll Free (888) 838-0506
Contact A1 Electric by Email

---
Ready to checkout?



SHOPPING CART

Online Catalog & Shopping Cart
Home | Company Information | Ordering Information | FAQ's
Electric Life Power Windows | Installation Articles | MES Power Door Locks
Alarms & Keyless Entry | Power Window Switches | OE Window Lift Motors | Colibri Power Windows
Accessories & Pop Door Kits | Street Rod Window Kits | SPAL | Classic Car Windows | Speedometer | Links to other Sites