Installing an Electric Life Power Window Kit In a 1996 Volkswagen Golf

Page 17
Using the enclosed wiring diagram, the wires in the left front portion of the harness are plugged into the cavities on the connector plug supplied with the kit. The connector is then plugged into the free spot in the plastic block located just above the kick panel. The other side of this block is in the rubber boot in the door jamb. Note that the red wires we placed in the number 8 position are at the top of the block.
In the photo below, the power window connector is the one with the red, green, black and brown wires.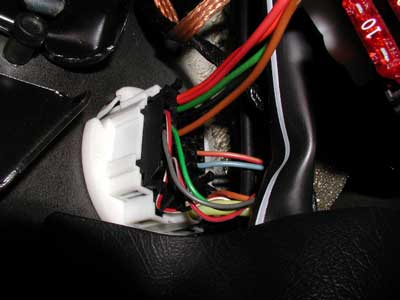 PREVIOUS
NEXT PAGE
Article Pages
1 2 3 4 5 6 7 8 9 10 11 12 13 14 15 16 17 18 19 20 21 22 23 24 25
---
Ready to Order? Need Prices?
Use our Online Catalog & Shopping Cart!





We have thousands of items in stock and ready to ship!
A-1 Electric
Local (310) 328-8500 Toll Free (888) 838-0506
Contact A1 Electric by Email

---
Ready to checkout?



SHOPPING CART

Online Catalog & Shopping Cart
Home | Company Information | Ordering Information | FAQ's
Electric Life Power Windows | Installation Articles | MES Power Door Locks
Alarms & Keyless Entry | Power Window Switches | OE Window Lift Motors | Colibri Power Windows
Accessories & Pop Door Kits | Street Rod Window Kits | SPAL | Classic Car Windows | Speedometer | Links to other Sites