Installing an Electric Life Power Window Kit In a 1996 Volkswagen Golf

Page 16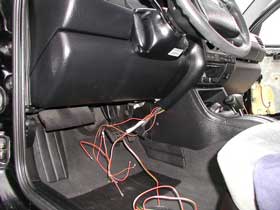 The front power window wiring harness comes in 3 pieces. An under dash section, drivers door harness and a passenger door harness. Electric Life designed the kit so that the front door window kit could be installed without the rear door window kit if desired.
The wires for the front passenger door and right rear passenger door are passed behind the center center console and run to their respective doors. The knee bolster under the left side of the dash is removed to gain more working room and the relay module for the rear windows is plugged into the harness. This module is tucked up into the dash and tie strapped to a nearby bracket to prevent it from falling down.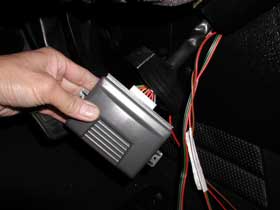 PREVIOUS
NEXT PAGE
Article Pages
1 2 3 4 5 6 7 8 9 10 11 12 13 14 15 16 17 18 19 20 21 22 23 24 25
---
Ready to Order? Need Prices?
Use our Online Catalog & Shopping Cart!





We have thousands of items in stock and ready to ship!
A-1 Electric
Local (310) 328-8500 Toll Free (888) 838-0506
Contact A1 Electric by Email

---
Ready to checkout?



SHOPPING CART

Online Catalog & Shopping Cart
Home | Company Information | Ordering Information | FAQ's
Electric Life Power Windows | Installation Articles | MES Power Door Locks
Alarms & Keyless Entry | Power Window Switches | OE Window Lift Motors | Colibri Power Windows
Accessories & Pop Door Kits | Street Rod Window Kits | SPAL | Classic Car Windows | Speedometer | Links to other Sites