Installing an Electric Life Power Window Kit In a 1996 Volkswagen Golf

Page 20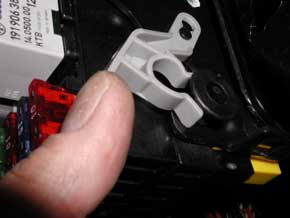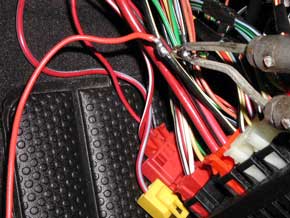 There are 2 clips that hold the fuse box in place (upper left photo). These clips are removed and the fuse box is pulled down to make it easier to connect wires to. We locate the black yellow wire as per our instruction sheet and solder our red power wire to it. Our connection is taped up with electrical tape and the fuse box is placed back into it's mounting brackets and clipped into place.
In the lower right photo you can see the power wires from the front loom and rear loom joining together with our power wire from behind the fuse box.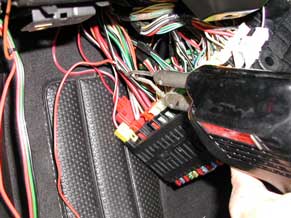 PREVIOUS
NEXT PAGE
Article Pages
1 2 3 4 5 6 7 8 9 10 11 12 13 14 15 16 17 18 19 20 21 22 23 24 25
---
Ready to Order? Need Prices?
Use our Online Catalog & Shopping Cart!





We have thousands of items in stock and ready to ship!
A-1 Electric
Local (310) 328-8500 Toll Free (888) 838-0506
Contact A1 Electric by Email

---
Ready to checkout?



SHOPPING CART

Online Catalog & Shopping Cart
Home | Company Information | Ordering Information | FAQ's
Electric Life Power Windows | Installation Articles | MES Power Door Locks
Alarms & Keyless Entry | Power Window Switches | OE Window Lift Motors | Colibri Power Windows
Accessories & Pop Door Kits | Street Rod Window Kits | SPAL | Classic Car Windows | Speedometer | Links to other Sites