Installing an Electric Life Power Window Kit In a 1996 Volkswagen Golf

Page 12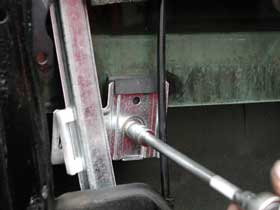 The window glass is carefully lowered into the loosened glass clamps and the clamps are tightened. It's important to tighten the clamps with the glass almost all the way up and the clamps visible through the access holes. Tightening the clamps while the glass is in this position will allow the glass to self center itself to the regulator assembly. Note the red clamp in the upper right photo. This clamp helps hold the upper regulator cable out of harms way (blue arrow). If you haven't already attached the motor wires to the motor, now is the time to do so.
PREVIOUS
NEXT PAGE
Article Pages
1 2 3 4 5 6 7 8 9 10 11 12 13 14 15 16 17 18 19 20 21 22 23 24 25
---
Ready to Order? Need Prices?
Use our Online Catalog & Shopping Cart!





We have thousands of items in stock and ready to ship!
A-1 Electric
Local (310) 328-8500 Toll Free (888) 838-0506
Contact A1 Electric by Email

---
Ready to checkout?



SHOPPING CART

Online Catalog & Shopping Cart
Home | Company Information | Ordering Information | FAQ's
Electric Life Power Windows | Installation Articles | MES Power Door Locks
Alarms & Keyless Entry | Power Window Switches | OE Window Lift Motors | Colibri Power Windows
Accessories & Pop Door Kits | Street Rod Window Kits | SPAL | Classic Car Windows | Speedometer | Links to other Sites