Installing an Electric Life EL12-K Street Rod
Power Window Kit in a 1959 Volvo.

Page 4
The next measurement that we take is with the window rolled completely down. We have approximately 11 1/2 inches of room under the window. This kit only needs about 5 inches of space below the glass. Next we check for clearance between the glass and the door. We have 2 inches of space between the door and the glass towards the bottom of the door (bottom left photo) and 1 inch of space at the top of the door. Our kit needs a minimum of 3/4 inch of space, so again we have plenty of room to work with. Our kit also needs 1 5/8 inches of door thickness below the glass in order to mount the motor. We have over 3 inches of width in the bottom of the door.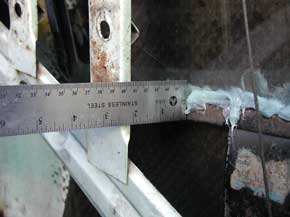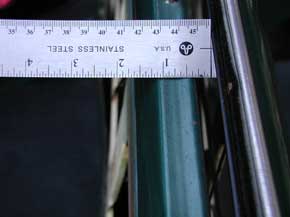 PREVIOUS
NEXT PAGE
Article Pages
1 2 3 4 5 6 7 8 9 10 11 12 13 14 15 16 17 18 19 20
---
Ready to Order? Need Prices?
Use our Online Catalog & Shopping Cart!





We have thousands of items in stock and ready to ship!
A-1 Electric
Local (310) 328-8500 Toll Free (888) 838-0506
Contact A1 Electric by Email

---
Ready to checkout?



SHOPPING CART

Online Catalog & Shopping Cart
Home | Company Information | Ordering Information | FAQ's
Electric Life Power Windows | Installation Articles | MES Power Door Locks
Alarms & Keyless Entry | Power Window Switches | OE Window Lift Motors | Colibri Power Windows
Accessories & Pop Door Kits | Street Rod Window Kits | SPAL | Classic Car Windows | Speedometer | Links to other Sites