Installing an Electric Life EL12-K Street Rod
Power Window Kit in a 1959 Volvo.

Page 13
The extra mounting strap is going to be used for the upper mounting in this car. Since there isn't any sheet metal in the area of the upper bracket, we'll use the provided strap to span the opening. After the strap is attached to the regulator, power is applied to the blue and black wires to raise the window. The strap is bent so that it meets the sheet metal at the right edge of the opening. since it is really close to the edge of the door panel, we chose to weld it to the door, rather than use a bolt and nut. On the left side of the bracket, a hole is marked and drilled through the door and strap, the strap is cut to length and a couple 5/16 nuts and washers are used to take up the space between the strap and the door. The whole thing is clamped together with a 6mm bolt and nut.
With the window about half way up, all of the pieces are rocked gently, so they can find their natural centers and all of the nuts and bolts are tightened up.
It is important to note that for everything to work properly, the regulator must be mounted parallel to the glass channels on either side of the glass and also parallel to the window. With everything mounted and tightened, the window should rock slightly in both planes along it's entire travel. If it binds at any point, there will be excessive wear on the mechanism and slower than normal movement.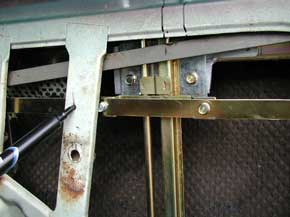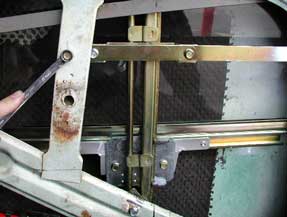 PREVIOUS
NEXT PAGE
Article Pages
1 2 3 4 5 6 7 8 9 10 11 12 13 14 15 16 17 18 19 20
---
Ready to Order? Need Prices?
Use our Online Catalog & Shopping Cart!





We have thousands of items in stock and ready to ship!
A-1 Electric
Local (310) 328-8500 Toll Free (888) 838-0506
Contact A1 Electric by Email

---
Ready to checkout?



SHOPPING CART

Online Catalog & Shopping Cart
Home | Company Information | Ordering Information | FAQ's
Electric Life Power Windows | Installation Articles | MES Power Door Locks
Alarms & Keyless Entry | Power Window Switches | OE Window Lift Motors | Colibri Power Windows
Accessories & Pop Door Kits | Street Rod Window Kits | SPAL | Classic Car Windows | Speedometer | Links to other Sites