Installing an Electric Life EL12-K Street Rod
Power Window Kit in a 1959 Volvo.

Page 9
We actually waited a day before continuing with the installation. This gave our glue plenty of time to dry. The window was then reinserted into the door and blocked up in it's lowest position. The regulator is then held up in the approximate position that we will mount it in. We will try to mount it close to the centerline we drew earlier and down as far as possible in the door. Whenever possible, the regulators should be mounted with the motor towards the front of the door. Once our regulator position is chosen, the top of the regulator is marked and cut off.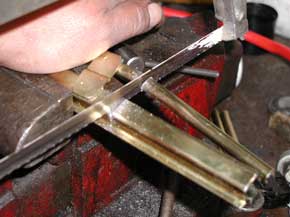 PREVIOUS
NEXT PAGE
Article Pages
1 2 3 4 5 6 7 8 9 10 11 12 13 14 15 16 17 18 19 20
---
Ready to Order? Need Prices?
Use our Online Catalog & Shopping Cart!





We have thousands of items in stock and ready to ship!
A-1 Electric
Local (310) 328-8500 Toll Free (888) 838-0506
Contact A1 Electric by Email

---
Ready to checkout?



SHOPPING CART

Online Catalog & Shopping Cart
Home | Company Information | Ordering Information | FAQ's
Electric Life Power Windows | Installation Articles | MES Power Door Locks
Alarms & Keyless Entry | Power Window Switches | OE Window Lift Motors | Colibri Power Windows
Accessories & Pop Door Kits | Street Rod Window Kits | SPAL | Classic Car Windows | Speedometer | Links to other Sites