Installing an Electric Life EL12-K Street Rod
Power Window Kit in a 1959 Volvo.

Page 18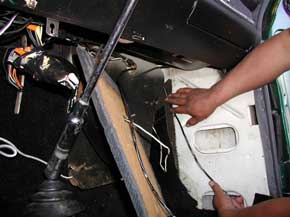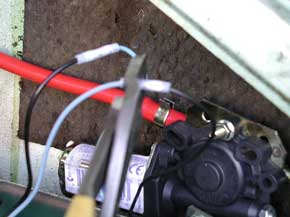 The wiring is passed through the kick panel cavities and under the dash. Both the left and right looms need to meet under the dash on the drivers side. The wire looms are tie strapped up under the dash so that they will not dangle or get caught in moving objects. Caution must be used so that the wiring will avoid moving components such as the gas pedal, brake pedal and heater controls. The motor wires from the wire loom are connected to the motor leads.
We used an accessory power relay in this installation (part number "relay1" seen in the bottom left photo). The vehicles existing wiring was marginal to begin with, and power windows was definitely not in Volvo's original plans. The relay will allow us to have a clean power source for our power window kit. The fuse holder from the relay kit is connected to the positive battery terminal (see arrow on bottom right photo). The 12 gauge wire supplied with the kit is run through the firewall, cut to length and connected to the fuse holder wire. The pink wire on the relay is connected to an ignition power wire near the ignition switch. This wire is used to trigger our relay. The black wire is connected to chassis ground.
The red, purple and gray wires are connected together color to color. The red output wire from the relay is also connected in with the 2 reds from the switch wiring. Our relay and wiring will also be tied up once all of the connections are made.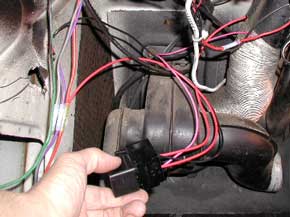 PREVIOUS
NEXT PAGE
Article Pages
1 2 3 4 5 6 7 8 9 10 11 12 13 14 15 16 17 18 19 20
---
Ready to Order? Need Prices?
Use our Online Catalog & Shopping Cart!





We have thousands of items in stock and ready to ship!
A-1 Electric
Local (310) 328-8500 Toll Free (888) 838-0506
Contact A1 Electric by Email

---
Ready to checkout?



SHOPPING CART

Online Catalog & Shopping Cart
Home | Company Information | Ordering Information | FAQ's
Electric Life Power Windows | Installation Articles | MES Power Door Locks
Alarms & Keyless Entry | Power Window Switches | OE Window Lift Motors | Colibri Power Windows
Accessories & Pop Door Kits | Street Rod Window Kits | SPAL | Classic Car Windows | Speedometer | Links to other Sites