Installing an Electric Life EL12-K Street Rod
Power Window Kit in a 1959 Volvo.

Page 16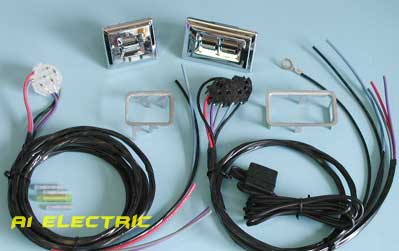 We are installing the SK3-OEGM chrome switches in the doors. The drivers door will have 2 switches and the passenger side will have a single switch. The loom for this kit is split into 2 halves. This is one of the easiest switch kits to install. Yet it looks great in most of the older vehicles.
The kick panel is removed and we check the access hole behind it to make sure we'll be able to pass the wires through the cavity. A hole is drilled in the sheet metal just below the hinge and the lip below the hinge is filed away to clear a path for our wire loop. A matching hole is drilled into the door, directly opposite the hole in the car body side of the jamb.
PREVIOUS
NEXT PAGE
Article Pages
1 2 3 4 5 6 7 8 9 10 11 12 13 14 15 16 17 18 19 20
---
Ready to Order? Need Prices?
Use our Online Catalog & Shopping Cart!





We have thousands of items in stock and ready to ship!
A-1 Electric
Local (310) 328-8500 Toll Free (888) 838-0506
Contact A1 Electric by Email

---
Ready to checkout?



SHOPPING CART

Online Catalog & Shopping Cart
Home | Company Information | Ordering Information | FAQ's
Electric Life Power Windows | Installation Articles | MES Power Door Locks
Alarms & Keyless Entry | Power Window Switches | OE Window Lift Motors | Colibri Power Windows
Accessories & Pop Door Kits | Street Rod Window Kits | SPAL | Classic Car Windows | Speedometer | Links to other Sites