Installing an Electric Life EL12-K Street Rod
Power Window Kit in a 1959 Volvo.

Page 14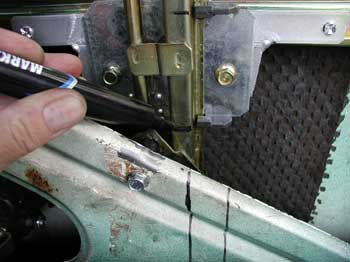 With the window in it's full down position, the regulator is marked and a 1/4 inch hole is drilled about 1/2 inch below the mark. A 1/4 inch bolt and nut are screwed into the hole. This nut and bolt will serve as the windows bottom stop, preventing it from going too far down in the door.
The motor bracket is bent into a Z shape, a 1/4 inch hole is drilled in the door and the bracket is bolted into place. This is important. You don't want the motor floating around in the door, banging into everything.
See the photo on the bottom right. This is extremely important for Goldie cable kits. The plastic tube (red) must be smoothly routed. This is where the extra cable is held. If this tube gets kinked or bent around a tight turn, your windows will stop working.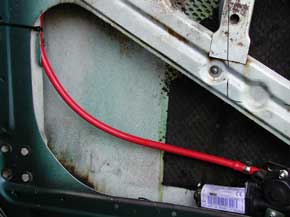 PREVIOUS
NEXT PAGE
Article Pages
1 2 3 4 5 6 7 8 9 10 11 12 13 14 15 16 17 18 19 20
---
Ready to Order? Need Prices?
Use our Online Catalog & Shopping Cart!





We have thousands of items in stock and ready to ship!
A-1 Electric
Local (310) 328-8500 Toll Free (888) 838-0506
Contact A1 Electric by Email

---
Ready to checkout?



SHOPPING CART

Online Catalog & Shopping Cart
Home | Company Information | Ordering Information | FAQ's
Electric Life Power Windows | Installation Articles | MES Power Door Locks
Alarms & Keyless Entry | Power Window Switches | OE Window Lift Motors | Colibri Power Windows
Accessories & Pop Door Kits | Street Rod Window Kits | SPAL | Classic Car Windows | Speedometer | Links to other Sites