Installing an Electric Life EL12-K Street Rod
Power Window Kit in a 1959 Volvo.

Page 11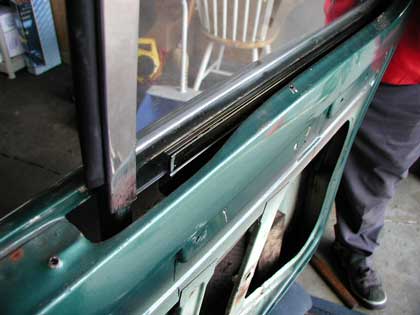 In a best case situation, the glass would extend down into the door about 1 1/2 inches with the window rolled up. Unfortunately, this glass is cut on the short side and only extends into the door about 1/2 inch. This places the channel under the glass sash a little too high in the door. There is a short bar with 2 rollers attached to it that slides in the channel below the glass. This channel is then bolted to the mounting pad on the regulator. With the glass this high in the door, the mounting pad on the regulator will hit the top of the door before the glass reaches the top.
To compensate for this, we welded on an extra piece of steel to the roller bar that mounts between the regulator and the glass sash. If the extra height needed was less than an inch, it would have been possible to drill alternate holes towards the top of the regulators mounting pad.
In the photo below, the bar on the bottom is the original piece that came with our kit and the bar on the top is our modified piece.
PREVIOUS
NEXT PAGE
Article Pages
1 2 3 4 5 6 7 8 9 10 11 12 13 14 15 16 17 18 19 20
---
Ready to Order? Need Prices?
Use our Online Catalog & Shopping Cart!





We have thousands of items in stock and ready to ship!
A-1 Electric
Local (310) 328-8500 Toll Free (888) 838-0506
Contact A1 Electric by Email

---
Ready to checkout?



SHOPPING CART

Online Catalog & Shopping Cart
Home | Company Information | Ordering Information | FAQ's
Electric Life Power Windows | Installation Articles | MES Power Door Locks
Alarms & Keyless Entry | Power Window Switches | OE Window Lift Motors | Colibri Power Windows
Accessories & Pop Door Kits | Street Rod Window Kits | SPAL | Classic Car Windows | Speedometer | Links to other Sites