Installing an Electric Life EL12-K Street Rod
Power Window Kit in a 1959 Volvo.

Page 7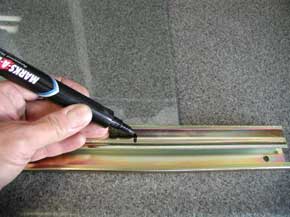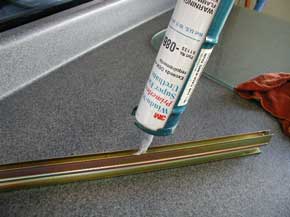 The old bottom piece is removed from the glass and it is cleaned up with steel wool and solvent to remove all of the Silicone glue from it. The glass sash is marked and cut so it is about 2 inches narrower than the glass. We used Urethane glue and a strip of the rubber that comes with the kit to install the new sash on the window. The open channel on the bottom of the sash need to face towards the inside of the car. The Urethane glue that we used is the same stuff they use to install replacement windshields in many American cars and trucks.
We used Urethane adhesive to mount our sash to the window. While this is perfectly acceptable, the best way to mount the sash to the window is to have a glass shop force the sash onto the window with a rubber strip sandwiched between the 2. Unless you do this for a living, I wouldn't even consider trying it.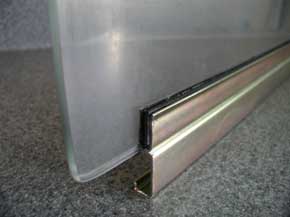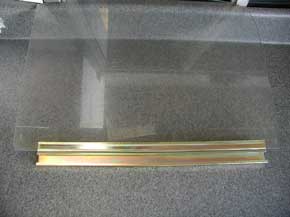 PREVIOUS
NEXT PAGE
Article Pages
1 2 3 4 5 6 7 8 9 10 11 12 13 14 15 16 17 18 19 20
---
Ready to Order? Need Prices?
Use our Online Catalog & Shopping Cart!





We have thousands of items in stock and ready to ship!
A-1 Electric
Local (310) 328-8500 Toll Free (888) 838-0506
Contact A1 Electric by Email

---
Ready to checkout?



SHOPPING CART

Online Catalog & Shopping Cart
Home | Company Information | Ordering Information | FAQ's
Electric Life Power Windows | Installation Articles | MES Power Door Locks
Alarms & Keyless Entry | Power Window Switches | OE Window Lift Motors | Colibri Power Windows
Accessories & Pop Door Kits | Street Rod Window Kits | SPAL | Classic Car Windows | Speedometer | Links to other Sites