Installing an Electric Life EL12-K Street Rod
Power Window Kit in a 1959 Volvo.

Page 15
With the regulators mounted and working, its time to get our wiring underway. Most pre 60's vehicles don't have any space left in the door jambs when the door is closed. This makes it difficult to pass the wires from the doors into the body of the car. The regular rubber boots are way too big to fit here. There are 2 ways to get the wiring into the car. We can install sliding door contacts in the jambs (the kind used on van sliding doors) or we can use what is known as a wire loop. On this job, we are going to use the wire loops shown in the photo below. These loops are inexpensive plastic models. Alternately, nylon tubes or stainless steel springs can also be used.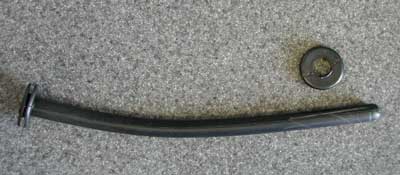 PREVIOUS
NEXT PAGE
Article Pages
1 2 3 4 5 6 7 8 9 10 11 12 13 14 15 16 17 18 19 20
---
Ready to Order? Need Prices?
Use our Online Catalog & Shopping Cart!





We have thousands of items in stock and ready to ship!
A-1 Electric
Local (310) 328-8500 Toll Free (888) 838-0506
Contact A1 Electric by Email

---
Ready to checkout?



SHOPPING CART

Online Catalog & Shopping Cart
Home | Company Information | Ordering Information | FAQ's
Electric Life Power Windows | Installation Articles | MES Power Door Locks
Alarms & Keyless Entry | Power Window Switches | OE Window Lift Motors | Colibri Power Windows
Accessories & Pop Door Kits | Street Rod Window Kits | SPAL | Classic Car Windows | Speedometer | Links to other Sites