Electric Life
Vehicle Specific
Power Window Kits
Power Window Applications are sorted by vehicle make & model
Click on vehicle make to start.

Buick


Cadillac


Chevrolet


Chevrolet Truck


Chrysler


Classics/Flat Glass


Dodge


Delorean


Dodge Truck


Ford


Ford Truck


Freightliner


GMC Truck


Geo


Honda


Isuzu


Jeep


Kenworth


Mazda


Mitsubishi


Nissan


Oldsmobile


Plymouth


Pontiac


Peterbilt


Street Rod/Flat Glass


Suzuki


Toyota


Volkswagen
-----------------------------------------
-----------------------------------------
Colibri Universal
Power Window Kits

Power Window Kits, Shaved Handle Kits,
Talegator Tonneau Cover & Tailgate Lift kits
The Ultimate in Powered Automotive Accessories
If you are looking for an Electric Life product, you've come to the right place. A1 Electric has been selling Electric Life power window kits and automotive accessories for over 15 years. We stock hundreds of Electric Life products in our warehouse. We can also special order almost anything that Electric Life makes. We have the expertise to help you purchase and install Electric Life products in your car or truck.
Electric Life is renowned worldwide for it's power window systems. Electric Life builds power window assemblies for original equipment applications as well as power window conversion kits that are used to install power windows in vehicles that came with manual crank windows. Electric Life products also include the Talegator line. Talegator products include power tailgate kits and power tonneau cover lift kits for pickup trucks.
You can count on Electric Life products and A1 Electric for Sales, Technical Support & Warranty Service.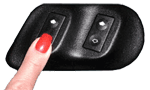 Electric Life Vehicle Specific Power Window Kits & Switch Kits
Power window kit applications are listed by make and model.
Choose your vehicle make on the left side of page to find
a custom power window kit for your car or truck.

Talegator Power Tailgate and Tonneau Cover kits.
Talegator kits let you raise and lower your trucks tailgate and tonneau cover by remote control.
The ultimate accessory for ultimate convenience.
---
Looking for a Specific Electric Life Part Number or Item?

---
We have lots of articles on actual power window installations.
These are comprehensive articles were written while observing actual installations.
Ready to Order? Need Prices?
Use our Online Catalog & Application Guide!




We have thousands of items in stock and ready to ship!
A1 Electric Automotive Accessories
Local (310) 328-8500 Toll Free (888) 838-0506
Contact A1 Electric by Email

---
Ready to checkout?



SHOPPING CART
Home | Company Information | Ordering Information | FAQ's
Electric Life Power Windows | Installation Articles | MES Power Door Locks
Alarms & Keyless Entry | Power Window Switches | OE Window Lift Motors | Colibri Power Windows
Accessories & Pop Door Kits | Street Rod Window Kits | SPAL | Classic Car Windows | Speedometer | Links to other Sites
Tech Articles & Information
Mustang | Chevelle | Dodge Ram PU | Door Lock Installs | S10 Window Motor | Maxima | Grand Am | Silverado Windows
Cable Locks | Tacoma | Tacoma Tech | Ford F150 | 55 Chevy | Volvo | Chevy PU | Camaro | VW Golf | Chevy PU
Chevy Astro | Caravan | VW Beetle | Colibri-Astro | Mopar | Focus | Silverado Door Locks