Toll Free (888) 838-0506
Installing Power Windows in a Jeep Wrangler
This top of the line kit from A1 Electric includes power window regulators and motor assemblies for 4 doors,
custom wiring harness with quick disconnects for the doors, factory power window switch with one touch switches
that mounts in the dash in the factory location, individual switches for the rear doors,
motor mounting plates and detailed installation instructions.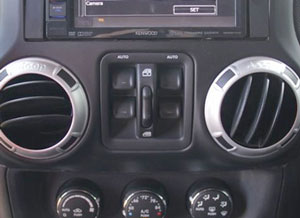 Jeep Wrangler Power Window Kit



Fits 2011-2017 Wrangler JK 4 door

This kit comes with step by step instructions to allow backyard mechanics to do a professional installation.

Door panels are removed


Inner carrier panel is removed. Our customers tell us that removing the door panls and carrier panels is the toughest part of the job.

Using template, drill holes and modify carrier panel to fit new motor and regulator assemblies.


regulator is attached to carrier panel and motor is mounted to carrier panel with motor mounting plate.


Factory switch is mounted in place of pocket between the air registers in the dash.

Note that the switch snaps right into the existing hole. The front windows also have the auto down feature!

Switches and mounting panels are mounting over the old crank handle holes in rear doors.


Plug wiring into the mauin switch and run through dash and into the doors. Wirng is preassembled making installation a breeze. Unlike other kits, you do not have to assemble 26 wires into their respective connector blocks for the main switch.

2 or 3 wires are left loose in each door to allow them to be run through the cloth door jamb harness protectors. Heavy duty connectors are installed allowing doors to be removed.

Simple 3 wire hookup. One power wire goes to the battery, one goes to an ignition power source and the third gets grounded in the kick panel.


See more information on our Jeep Wrangler power window kit & power door lock kits.
These complete kits are all designed specifically for the Wrangler.
---
A1 Electric Automotive Accessories
2301 W 205th Street Suite 101 Torrance California 90501
(888) 838-0506 Local (310) 328-8500
---
Contact Us
Home | Company & Ordering Information | FAQ's | Map
Electric Life Power Windows | Installation Articles | MES Power Door Locks
Alarms & Keyless Entry | Power Window Switches | OE Window Lift Motors | Colibri Power Windows
Accessories & Pop Door Kits | Street Rod Window Kits | SPAL | Classic Car Windows | Speedometer Repairs & Cables
SPAL Cooling Fans | Power Windows | Order Tracking | Website Directory
Tech Articles & Information
Mustang | Chevelle | Dodge Ram PU | Door Lock Installs | S10 Window Motor | Maxima | Grand Am | Silverado Windows
Cable Locks | Tacoma | Tacoma Tech | Ford F150 | 55 Chevy | Volvo | Chevy PU | Camaro | VW Golf | Chevy PU
Colorado | Chevy Astro | Caravan | VW Beetle | Colibri-Astro | Mopar | Focus | Silverado Door Locks