UPS GROUND & FEDEX GROUND SHIPPING ESTIMATE MAPS
Delivery times are estimates from our warehouse in Torrance California and
may not include weekends or holidays.
UPS Ground Shipping Estimate Map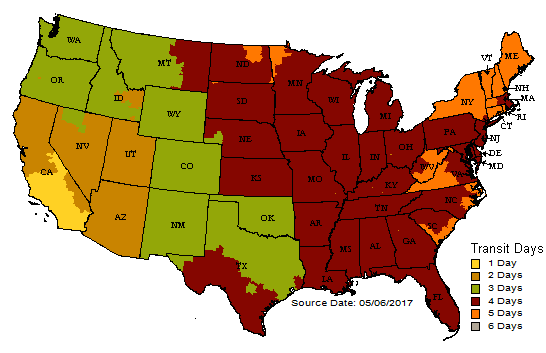 FedEx Ground Shipping Estimate Map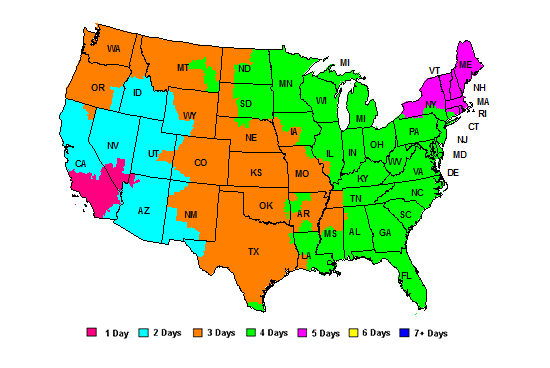 A1 Electric Automotive Accessories
2301 W 205th Street Suite 101 Torrance California 90501
(888) 838-0506 Local (310) 328-8500
Map & Directions to our Office/Warehouse

**Note: Free A1 Saver shipping is available on packages shipped within the contiguous continental USA (this does not include shipments to Alaska and Hawaii). Shipments to Alaska, Hawaii, Canada and all other destinations require alternate shipping methods. Please see Ordering Information for more details on ordering, discounts and shipping.

Although the information on this website is deemed accurate and reliable, we will not be held liable for any errors or omissions. All prices are subject to change without notice.
---
Contact Us
Home | Company & Ordering Information | FAQ's | Map
Electric Life Power Windows | Installation Articles | MES Power Door Locks
Alarms & Keyless Entry | Power Window Switches | OE Window Lift Motors | Colibri Power Windows
Accessories & Pop Door Kits | Street Rod Window Kits | SPAL | Classic Car Windows | Speedometer Repairs & Cables
SPAL Cooling Fans | Power Windows | Order Tracking | Website Directory
Tech Articles & Information
Wrangler | Mustang | Chevelle | Dodge Ram PU | Door Lock Installs | S10 Window Motor | Maxima | Grand Am | Silverado Windows
Cable Locks | Tacoma | Tacoma Tech | Ford F150 | 55 Chevy | Volvo | Chevy PU | Camaro | VW Golf | Chevy PU
Colorado | Chevy Astro | Caravan | VW Beetle | Colibri-Astro | Mopar | Focus | Silverado Door Locks
Searching for used auto parts? Used Parts Central is the place!
---